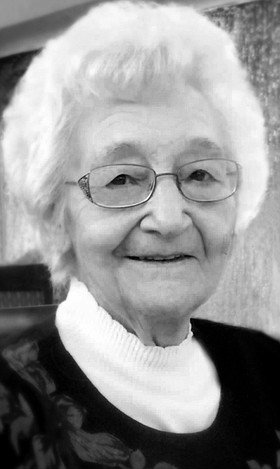 Valeria Philomena Seubert
Portland, Ore.
March 23, 1920 - December 8, 2015

Valeria Philomena Seubert, 95, passed away peacefully on Dec. 8, 2015, in her apartment at Summerplace Assisted Living Center in Portland, Ore. Valeria was born in Ferdinand, Idaho, on March 23, 1920, to John J. and Anna Willenborg Jentges. She was the eldest of six children. Valeria's mother died when she was 10, and it profoundly changed her life. She had to assume the task of raising her brother and sisters, keeping house, cooking and helping her father with the chores on their farm. She worked hard to put her younger siblings through school, even though she was only allowed to complete the eighth grade.
Valeria married John L. Seubert on Oct. 15, 1946. They enjoyed 62 years of marriage, and raised five children: Lynda (Stewart) Harvey, Kathy, Ron (Sara), Peggy (Joe) Gorciak and Randy. Together they planted and harvested wheat and remodeled their home in Cottonwood to accommodate their growing family. In their later years John and Valeria enjoyed traveling in their motor home, making trips to Alaska, the Midwest and many places in between. They often took their motor home for a few days of fishing on Winchester Lake. They were able to travel with their children to Europe, the Panama Canal and New Orleans. In 1996, they celebrated their 50th wedding anniversary with a trip to the Holy Land.
Valeria was an accomplished homemaker, and her cellar was full of canned fruits, vegetables, pickles and jams. She was a skilled seamstress, avid quilter, and enthusiastic gardener. Her goal was to make a special quilt for each of her children and grandchildren. Johnny and Valeria were well-known for their ever-expanding Christmas village, which was featured in an article in the Lewiston Morning Tribune in 2001.
A resourceful country wife, Valeria was one of the first women to drive a grain truck at harvest time, and she later drove a school bus to help with expenses. The family fondly remembers the great harvest and holiday meals she would make.
Valeria was an active member in many church organizations and involved in numerous community events. Everyone knew they could call on Valeria to give assistance in whatever needed to get done. The Second Hand Rose Store, which provided clothing items for people in need, was a project that was close to her heart. She devoted many hours volunteering in the store, and washed and mended the donated items at home.
Valeria Seubert is survived by her five children, nine grandchildren, five great-grandchildren, and her sister, Theresa Entrup. Valeria was preceded in death by her husband, John; her parents; infant sister, Marie; brother, Cy; sisters, Lucille Seubert and Sister Dolores Mary. Valeria was loved and respected by all who knew her. We are content to know that she is at peace in the arms of her Heavenly Father, but her passing leaves a big hole in the hearts of her family. We will miss her smile, her positive attitude, her relentless energy, constant support and her laughter.
There will be a celebration of Valeria's life on Saturday, April 23, at 10 a.m. at St. Mary's Catholic Church in Cottonwood, preceded by a 9:30 a.m. recitation of the Rosary. A graveside service will follow the funeral, and a reception lunch will be held at the Cottonwood Community Hall at noon. In lieu of flowers the family suggests that donations in memory of Valeria may be made to St. Gertrude's Monastery, 465 Keuterville Rd, Cottonwood, ID 83522; St. Mary's Catholic Church, 503 Garrett St., Cottonwood, ID 83522, or to the charity of your choice.