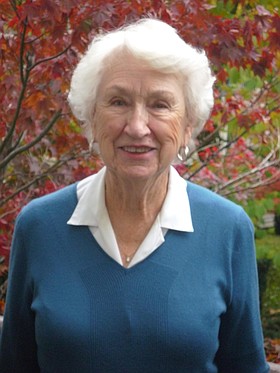 Wilma Nelson Shinnick
Portland, Ore.
unknown - unknown
A Celebration of Wilma Nelson Shinnick's Life will be held Saturday, July 9, 2016, at 1 p.m. at the chapel at Washington Memorial Park in SeaTac, Wash. Her ashes will be laid in Denver Cemetery, near her family ranch.
Wilma accomplished much throughout her life and was a natural athlete, both competitive and cooperative. She lived life to the fullest, sweeping people in with her considerable generosity and charm. Wilma was a hard worker, a gracious hostess, and completely devoted to her family.
Wilma was very proud of her Idaho heritage, born on April 19, 1923, in Denver, Idaho, to Hattie Zehner Nelson and Edwin Nelson. She rode her horse, Blue, to her one-room schoolhouse in Denver in her early years, then spent her sophomore year at St. Gertrude's Academy in Cottonwood, Idaho, and part of her high school years in Boise when the legislature was in session, due to the fact that her father was a state senator (1923–1940) and Lt. Governor (1942–1944). He also served as the head of Idaho's Fish and Game Department.
Shortly after graduating from high school, she married John Dill Shinnick, Jr., the son of Doc Shinnick and Rose McFadden Shinnick. Doc was an old-time country doctor who got paid in chickens or not at all.
While Wilma's father was a Republican, her father-in-law was elected as a Democratic state representative. Surprisingly, John and Wilma never fought over politics. Wilma enjoyed many things, including dancing with John, playing bridge, and like her parents was a pioneer, traveling to China in 1976 as one of the first Americans and later many parts of the world. In her 50s, her husband introduced her to golf; and that became an intense hobby they both enjoyed. She became so proficient at golf, she won many tournaments and hit four holes-in-one.
While John worked as a construction manager for A T &T in Spokane, she worked hard raising their three children: John Nelson, Philip Kent and Susan Jane Shinnick. After 22 years in Spokane, John was transferred to Seattle then Bremerton, Wash., and they remained there until retiring 10 years later in the Lakeland golf community in Allyn, Wash.
Following John's death in 1993, Wilma traveled and golfed with her partner, Harry Rhoads, for the next 13 years. For the last seven years, she lived with her daughter and son-in-law, Susan and Harold West, in RiverPlace, Portland, Ore.
In addition to Susan, she is also survived by her son, Phillip K. (B.J. Cling) Shinnick, PhD, of New York, N.Y., and daughter-in-law, Lynn Shinnick, of Arlington, Wash. She is also survived by nine grandchildren, Dana (Dennis) Willerford, Lane (Debbie) Shinnick, Jay (Torri) Shinnick, Shannon (Cameron) Smock, Quincey Shinnick, Nelson Nathaniel (Sarah) Shinnick, Phillip Kent Cling Shinnick, Todd (Jennifer) McIlhenny, and Mary McIlhenny (Greg) Kreta; and 18 great-grandchildren.