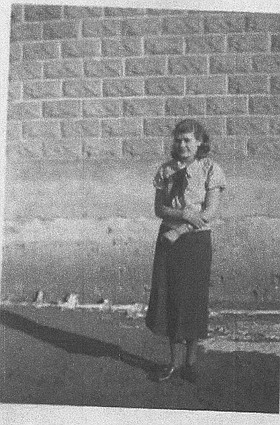 Ruby Grace McLaughlin
Grangeville, Idaho
July 15, 1918 - July 17, 2016
Ruby "Grace" McLaughlin passed away peacefully in her sleep at Grangeville Health and Rehabilitation Center on Sunday, July 17, 2016. Grace was an avid gardener, and voracious reader, and she loved to cook and bake.
Grace was born July 15, 1918 to Anton J. and Elizabeth "Bessie" L. Soards-Seyfried near Riggins, Idaho. Grace was the sixth of nine children born at the family home at the mouth of Race Creek. The home was the site of the U.S. Post Office, hotel, livery stable, and a stagecoach stop and was known as the town of Goff, which is no longer in existence.
Grace's mother passed away of melanoma when Grace was 10 years old. With her father working out of the area often, Grace and her siblings worked hard to feed and educate themselves. Grace attended elementary school in Riggins and high school in White Bird, Idaho graduating 1937 as valedictorian of a class of six students. During her high school years, she worked as the school librarian. She also served as the yearbook literary editor, student body president, and freshman class president. She participated in several class plays throughout her high school years and was active in Glee Club, Economics Club, and 4-H.
After graduation from high school, Grace moved to Spokane to work and met her beloved husband, Willard C. McLaughlin. They married in Spokane on Oct. 22, 1938. Grace and Willard owned many properties in the Spokane area and eventually settled on a plot in the Hillyard area of Spokane where they raised a huge garden. Grace also worked at Smith's Greenhouse for many years.
After Willard's death in 1986, Grace continued to live at their home in Spokane until the late 1990s, when she moved to Grangeville, Idaho. During her years in Grangeville, Grace lived with and near her niece, Dolores Kaschmitter, whom, at the age of 13, she had helped deliver. Though Grace and Willard had no children of their own, Grace loved cooking, canning, baking, and sharing the bounty of her garden with extended family. Grace will be fondly remembered for her popcorn balls, fudge, cookies, and clam chowder. She always had some small token of affection to share with her extended family. No one who visited her left empty-handed.
Grace was preceded in death by her husband, Willard; her parents, Anton and Bessie; three sisters, Mildred Peebles, Aneita "Sally" Marlatt, and Martha Goff; five brothers, Willis, Francis, George, Edward, and Garfield "Skookum," many nieces, nephews, great-nieces, and great-nephews as well as their children.
A Rosary service and funeral Mass will be held, at 4 p.m. on Friday, July 22, 2016, at Sts Peter and Paul Catholic Church in Grangeville, Idaho. Burial service will follow on Saturday, July 23, at 10 a.m., Riverside Cemetery in Spokane. Funeral services are under the direction of Blackmer Funeral Home of Grangeville, Idaho.