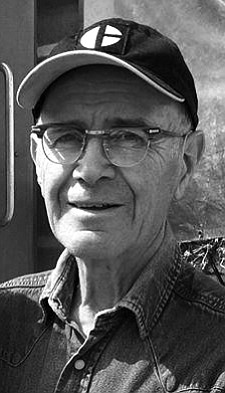 Jim Tuning
Soldotna, Alaska
August 8, 1941 - May 21, 2016
On May 21, 2016, James Raymond Tuning, 74, of Soldotna, Alaska, stepped into the presence of his Savior, Jesus Christ, whom he served faithfully, following a valiant battle with cancer (AML). He was at his home surrounded by family.
A celebration of life was held Saturday, May 28, at the Soldotna Bible Chapel in Soldotna. Pastor John Rysdyk officiated. Additional services: Visitation will be from 4 to 8 p.m. Saturday, June 4, at Trenary Funeral Home Chapel in Kooskia, Idaho. Funeral services will be held at 2 p.m. Sunday, June 5, at The Woodland Friends Church in Woodland, Idaho, with burial to follow at Woodland Cemetery. Pastor Kevin Davis will officiate.
Jim was born Aug. 8, 1941, at Wenatchee, Wash., to Raymond and Violet Tuning. They resided in Manson and Port Orchard, Wash., and in Star and Greenleaf, Idaho. In September, 1946, the family moved to Woodland, Idaho, where he attended grade school and then high school at Kamiah, Idaho, graduating in 1960. A sister, Dorothy, and two brothers, Ernest and Steven, joined the family.
In the springtime of both 1960 and 1961 he worked in an apple orchard shed at Wenoka, Wash. He also helped his parents with their farm work and in 1962, he went into partnership with them. During 1961-1999, he worked multiple logging jobs during the winter months, and he had mechanic and equipment operator jobs with Dabco, Inc., and Idaho County Road Department.
On June 14, 1965, Jim married the love of his life, Roberta (George) Tuning. They lived on a farm at Woodland, Idaho, for 36 years, where they raised three sons, Kenneth James, Nathan Duane and Kevin Miles.
In 2001, Jim and Roberta moved to Soldotna, Alaska, along with Roberta's horses and Jim's tractors and some farm equipment. While in Alaska, Jim worked as a mechanic and equipment operator for Raven Contractors in Sterling, CH2M Hill in Kenai, and A & L Construction in Sterling.
Jim attended church at the Woodland Friends Church in Idaho and the Soldotna Bible Chapel in Alaska. He was an example for many people of serving his Lord faithfully with honesty, dependability, concern and compassion for others.
Family statements:
"Dad was a man of few words who impacted many lives by his character and gracious helping hand… a positive example for many people… When his sons applied for jobs, the employers would see the Tuning name and say, "When can you start?" or "Oh you're Jim's son, you can have a job here anytime."
"He was truly a man of integrity, wisdom, strength, courage, faith and great compassion. His struggle with pain and suffering from cancer only made him stronger."
He was preceded in death by his parents and sister, Dorothy Grove.
He is survived by his wife, Roberta Tuning of Soldotna; brothers, Ernest Albert (Diane) Tuning of Orofino, Idaho, and Steven (Gwen) Tuning of Woodland, Idaho; sons, Kenneth James Tuning of Woodland, Idaho, Nathan Duane (Alicia) Tuning of Cascade, Idaho, and Kevin Miles (Genette) Tuning of Palmer, Alaska; nine grandchildren and two great-grandchildren.
Memorial donations may be made in memory of James to the Gideon Ministry through local churches or family financial needs: Alaska USA FCU, P.O. Box 196613 – Anchorage, Alaska 99519 – Account #4433057.
Arrangements made by Peninsula Memorial Chapel and Crematory. Please visit and sign his online guestbook at AlaskanFuneral.com. and Trenary Funeral Home of Kooskia, Idaho.