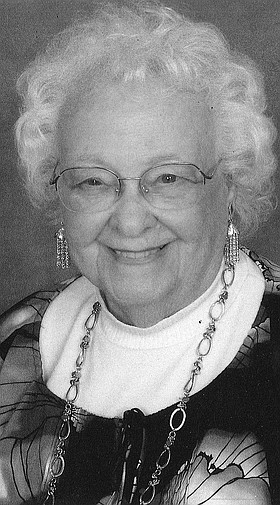 Alice "Katie" Katherine Mortenson Woodley Knight
Riggins, Idaho
September 29, 1929 - May 25, 2016

Alice Katherine (Katie) Woodley Knight, 86, of Riggins, Idaho, was promoted to her home in Heaven on May 25, 2016. Katie died of natural causes at her home in Riggins.
Katie was born Sept. 29, 1929, to Elder and Sylvia (Ross) Mortenson. She was born, the fifth of nine children, at home near Linn Grove, Iowa. Katie attended elementary school at Sioux Rapids, Iowa, and 10th through 12th grade at Arnolds Park, Iowa. After working for one year at home, she moved to California to join her sister, Wilma, to seek employment. Soon after arriving in California she met Tom Woodley. They were married on March 23, 1951, and for a short time moved back to Iowa where Tom was soon drafted into the military during the Korean War. They eventually were transferred to Ft. Sam Houston in San Antonio, Texas. Their daughter, Debbie was born while in San Antonio. After Tom's military service, they moved back to Bakersfield, Calif.
While in California, Katie was a stay-at-home mom, caring for neighborhood children until Debbie started school. She then began work outside of her home doing various jobs until 1959 when she went to work for Bank of America. She took a leave of absence in February of 1963 when their son, Steve, was born.
In 1965, Tom and Katie pulled up stakes and moved to Riggins. They bought and operated a small "mom and pop" business consisting of groceries, sporting goods, beer bar and gas station. Woodley's Richfield, later Arco, was in business until Tom passed away in 1974. After Tom's passing, Katie worked one year for the Riggins school lunch program, and then went to work at Miner's for Bill and Mary Carter.
After being widowed for six years, Katie met and married John Knight. John and Katie built and operated the Riggins Manor, a retirement and assisted living facility. They operated the manor, loving and caring for residents like each one was a family member. After 18 years, John and Katie sold the Riggins Manor and retired.
Katie was a member of Salmon River Community Church since 1969 where she served faithfully, always participating in ladies Bible studies, the senior trips and any activity that she could, including an outreach to Mexico's poorest. She was a member of the American Legion Auxiliary since 1970, she faithfully served as a volunteer for the Riggins Senior Citizens, the St. Luke's Foot Clinic, and other organizations around town. Katie loved to serve.
She was preceded in death by her parents, all eight of her siblings: Wilma Ferguson, Bernard Mortenson, Donald Mortenson, Raymond Mortenson, Jack Mortenson, Billy Mortenson, Carolyn Whiting and Marvin Mortenson; her first husband, Tom Woodley; and her second husband, John Knight.
Katie is survived by her two children: Debbie (LeRoy) Shaw and Steve Woodley of Riggins; three step-children: Alan Knight and Ernie (Beverly) Knight of Riggins, and Sharon (Gordon) Nine of Grangeville; nine grandchildren, nine great-grandchildren (and one on the way), eight step-grandchildren and nine step-great-granchildren.
A celebration of Katie's life will be held at Salmon River Community Church on Sunday, June 26, at 2 p.m., MDT. In lieu of flowers, memorials may be made to SRCC special fund.