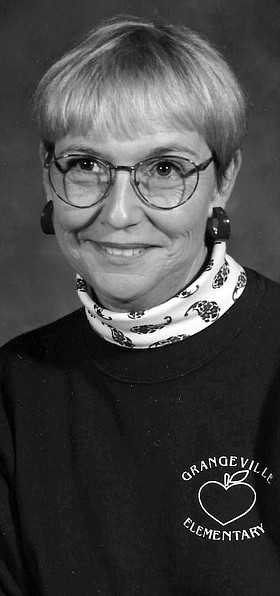 Betty Joy Clark - Paul
Grangeville, Idaho
October 31, 1942 - June 5, 2016
Betty Joy Clark-Paul longtime Grangeville resident, passed away Sunday, June 5, 2016, in her home at the age of 73. Beloved mother, grandmother, friend and teacher. Betty was born Oct. 31, 1942, in Oklahoma to the late Anne Stokes.
Betty grew up and got her education in her home state of Mississippi. She obtained her Master's degree in education from the Southern Mississippi University. She later met and married the late Bruce Peeples. They were blessed with their one and only child, Charles Bruce Peeples III, in August 1966. Betty taught briefly in Mississippi, before moving to Grangeville Idaho in 1968. She began working at the Elementary School in Grangeville and devoting her time to family and friends. Betty and Bruce later parted ways. She then met Dan Paul of Grangeville and the two were later married. She lost her beloved husband Dan in 2003. Betty retired before Dan's passing, after 32 years of dedication to students at Grangeville Elementary.
Betty kept busy with friends, family and various community events. She enjoyed antiques, gardening, flowers, reading, Pogo online gaming, cribbage, her dog "Muffy" and crossword puzzles. Betty was an amazing volunteer at the Syringa Hospital & Thrift Shop in Grangeville. She always enjoyed helping others and adored her lunch dates with dear friends. She had a true southern style about her and it remained prominent in her daily life.
Betty adored her son and was elated when she became a grandmother in 1999 and again in 2002. Although her family was small, it was big on love and devotion. Betty put her whole heart into everything she did. In 2013 she was diagnosed with cancer and made a remarkable recovery. In late 2015 Betty was diagnosed again with cancer, the same cancer spread, her fight began again. She made a valiant attempt and tried so hard to beat it this time. Thankfully, the Lord didn't let her suffer long before adding another angel to the heavens above. She will forever be cherished and treasured by her family and friends. Her glowing smile, dedication to community and family will be missed, but never forgotten.
Betty is survived by her son, Charles Peeples; daughter-in-law, Sherrie Peeples; grandchildren: Brandon Peeples and Alyssa Peeples, all of Grangeville Idaho.
She was preceded in death by her mother, Anne Stokes, and her beloved husband, Dan Paul.
A graveside service will be held Saturday, June 11, 2016, at 10 a.m. at the Denver Cemetery. A celebration of life will follow at 11 a.m. at the Grangeville Christian Church with Pastor Harold Gott to officiate. Arrangements are under the direction of Blackmer Funeral Home of Grangeville. Send condolences to the family to Blackmerfuneralhome.com
The family asks that in lieu of flowers, donations in honor of Betty Clark-Paul can be sent to Pine Tree Credit Union in Grangeville, Idaho, or C/O Peeples Family, 204 McDonald Road, Grangeville.