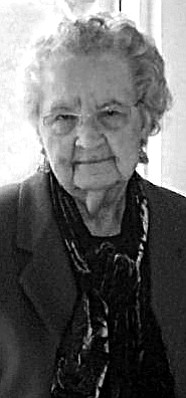 Frances T. Wagenmann
Hamilton, Mont.
August 12, 1918 - June 12, 2016
Frances T. Wagenmann, Darby resident since 1995, passed to her Eternal Reward on Sunday, June 12, 2016. Frances was born Aug. 12, 1918, to Nicholas and Eva Scharosch on a small farmstead just north of Richardton, North Dakota.
She had three brothers; John (deceased), Frank of Hazen, N.D. and Albert of Cedar Rapids, Iowa.
Frances completed her primary education through the 8th grade and remained with her parents until her marriage to Daniel Wagenmann on March 30, 1940. The couple farmed in North Dakota until their move to Jamestown in 1950 where they owned and operated a service station, café and cabins (motel).
Dan and Frances had 6 sons; Dan, Jr., of Darby, Mont., Duane (deceased), David of Moorhead, Minn., Dwight of Grangeville, Idaho, Dale of Grangeville, and Dean of Billings, Mont.
Dan and Frances left Jamestown in 1965 moving to Seattle, then near Yakima, Wash., Grangeville, Fargo, N.D., Jamestown, N.D., Great Falls, Mont., and ultimately Darby, Mont., in 1995.
Frances has 11 grandchildren and 15 great-grandchildren, all of which she loved to brag about. She loved to serve her family. Being a superb cook, we all enjoyed the results.
Frances was a member of Grace Chapel in Darby. She loved and enjoyed her church family, and they in return loved her. Frances loved her Lord and voiced her joy in much singing…albeit some was in German which few could understand.
Frances was a gracious and thankful lady, always ready for a bit of light-hearted fun. All who knew her will miss her kind smile and her gracious heart.
Funeral services will be held on Friday, June 17, 2016, at 11 a.m. at the Daly-Leach Chapel with a reception following in the funeral home's community room. Burial will follow the reception at Lone Pine Cemetery in Darby. Condolences may be left for the family at www.dalyleachchapel.com.