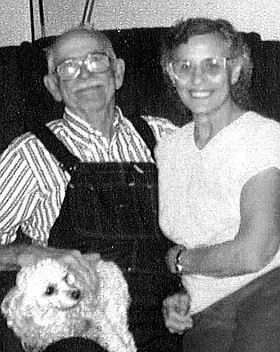 Verna Lydia Morrison
August 15, 1924 - June 7, 2016
On June 7, 2016, our mom, Verna Lydia Morrison, 91, (born Aug. 15, 1924 – died June 7, 2016) joined the love of her life, our dad, Byron George Morrison (born June 24, 1915 – died April 1, 1999) in Heaven with the Lord. Mom and Dad were married on Dec. 27, 1961, joining together the following children as a family: Dolores, Marlys, Lanice, Byron Jr. (Butch), MaDonna, Sara, Ernie, Doreen, Art, Arvid, Muriel, Mary, Marc, Jay, Rozan and Nathan. As they grew, these children also found the loves of their lives, adding to the family numerous in-laws, grandchildren, great-grandchildren, great-great-grandchildren, uncles, aunts, nieces, nephews, cousins and lifelong friends.
We thank you, Lord, as we celebrate the union of our Mom and Dad in Heaven. We thank you, Lord, for the love, the laughter and the lifelong memories. May their spirits continue to watch over us until we can be together again. We ask this in Jesus' name. Amen.
A private family gathering will be held in Missoula, Mont.