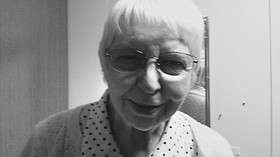 Marcia M. Hudson
Spokane, Wash.
unknown - June 21, 2016
Marcia M. Hudson, 87, Spokane, Wash., passed away on June 21, 2016, in Spokane, Wash. She is preceded in death by her husband, Ward Hudson. Marcia is survived by her sister, Phyllis Williams of Grangeville, Idaho; her son, Ray Kellogg (Peri); grandson, Michael Kellogg (Angela); great grandson, Ostin Kellogg all of Spokane; and numerous nieces and nephews. Marcia owned Merle Norman Cosmetics in Spokane for 42 years.
A celebration of life was held on Tuesday, June 28, 2016, at Audubon Park United Methodist Church, 3908 N. Driscoll Blvd., Spokane, WA. Riplinger Funeral Home and Crematory, Spokane, was entrusted with arrangements.