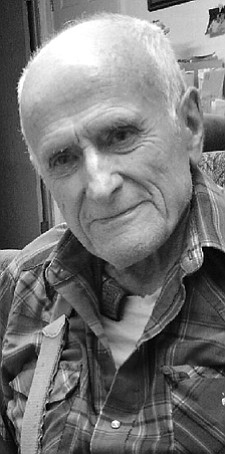 Carl H. Frei
Grangeville, Idaho
December 27, 1930 - February 26, 2016
Carl H. Frei, 85, of Grangeville, Idaho, passed away Friday, Feb. 26, 2016, at his brother, Tony's, home with family. Carl was born Dec. 27, 1930, to William Carl Frei and Elizabeth Kunygunda (Staab) Frei in Ferdinand, Idaho. The family moved from their farm in Ferdinand to Grangeville when Carl was 10 and has been here ever since.
Carl was proud to have served his country and was in the Army from 1951-1953 stationed in Japan during the Korean War. Carl had been issued a brand new M-1 rifle and ready to go to combat when his name was called to go to office headquarters, which made him nervous. When he got there he was told that he was chosen out of 5,500 soldiers to run the message center which he happily accepted. Carl has always credited this to his mother who prayed the Rosary for him daily.
Carl married Rhea Maxine Hawley having four children from this union, Cindy, Debbie, Donna and Bill. Carl and Rhea divorced in 1985 and have remained very close friends.
Carl and Tony Frei owned Frei Brothers Logging, farmed together and later Carl and his son, Bill, logged together as Frei Logging. Carl enjoyed carpentry and built many pieces for his family. Carl was a devout Catholic and devoted family man always placing the church and his family above himself. Carl and Tony were asked to serve the first Mass which was a midnight Mass, for the new church built in 1948 (which is the present church).
He was a well-loved and highly respected member of his community, most amazing father and grandfather "they just don't make men like him anymore." He will be deeply missed by his children, Debbie, Donna and JR Reeve, Bill and Caryl Frei; his grandchildren, Jake, Marc, Luke, Lily and Hannah; his brother, Tony Frei; sister, Anne Crea; his many nieces and nephews; and his loyal and faithful dog, "Sam."
Carl was preceded in death by his daughter, Cindy, at the age of 2; his parents; his brother, Joseph Frei; and sister, Christine Bruegeman.
Funeral Mass will be held at Sts. Peter and Paul Catohlic Church at 11 a.m. on Saturday, March 5. Rosary will be held the night before, Friday, March 4, at 7 p.m.
In lieu of flowers, Carl would appreciate donations to Sts. Peter and Paul School and Parish, 330 South B Street, Grangeville, ID 83530, phone 983-2182.