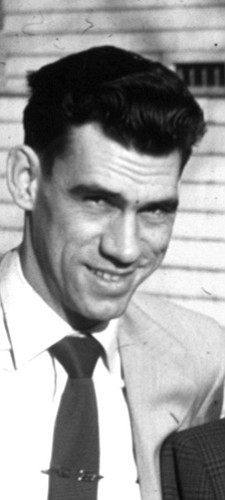 Clayton Hampel
Grangeville, Idaho
January 3, 1926 - February 21, 2016
Clayton Hampel was born to Carl and Stella Hampel on Jan. 3, 1926, in Fort Collins, Colo. He passed away in his home in Grangeville, Idaho, on Sunday, Feb. 21, 2016.
Clayton attended high school in LaPorte, Colo. He served in the U.S. Army during World War II, received an honorable discharge and was awarded a purple heart in 1945. He was a self-taught guitar player, supporting himself at Colorado State University by playing for dances.
He married Joanie McKaughan of Guffy, Colo., in 1951. They left Colorado, and heading for Alaska, they stopped in Grangeville along the way and decided to stay.
Clayton worked for the U.S. Forest Service as a fire spotter and told wonderful stories of his adventures in the Clearwater mountains and along the Lochsa river. He and Joanie spent two summers in Forest Service cabins on the Selway, a favorite time of his life.
Clayton taught history and math at Grangeville High School and became principal of Grangeville Elementary School for 13 years. The family later moved to a 40-acre home near the Clearwater River for four years. He taught junior high in Kooskia then moved back to Grangeville. He got a master's degree from the University of Idaho and worked as the psychologist for School District #241. He retired in 1986.
Clayton was a devoted father and husband and especially enjoyed taking the family on drives in the woods, fishing, rafting down the Clearwater, picking berries or getting wood. Clayton loved to hunt, fish, golf and tell a good story. In retirement years he traveled, including taking container ship cruises to Australia. For the past 15 years Clay, Lou Bunting and Bruce Wayenberg traveled to lunch most Wednesdays to various interesting places in Idaho County, learning the back roads along the way. He was a regular at coffee for many years, played cribbage with Bruce and did crossword puzzles daily, He was an avid reader and lover of history.
Clayton was preceded in death by his wife, Joanie; his sisters, Ardath and Hazel; and brother, Harry.
Clayton is survived by his son, Ron; and his daughter, Nancy.
A memorial service was held March 1 at Blackmer Funeral Home in Grangeville with Pastor Harold Gott officiating. Arrangements were under the direction of Blackmer Funeral Home of Grangeville. Send condolences to the family to Blackmerfuneralhome.com.