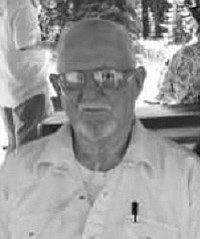 Roy Talbert Siggers, Sr.
Grangeville, Idaho
September 25, 1938 - March 23, 2016
Our beloved husband, father, grandfather, great-grandfather went to be with our Lord.
Roy Talbert Siggers Sr., 77, passed away Tuesday, Feb. 23, 2016, at St Luke's Hospital in McCall, Idaho, with his wife and Loretta (Diane) by his side. During the last five years his daughter, Loretta, provided her father with loving care. Roy was born in Brundidge, Ala., on Sept. 25, 1938, to Andrew and Fletter Siggers. Roy joined four brothers and one sister.
He met the love of his life, Velma Bell May 28 and they married June 1 of 1962. Together they had two children, a daughter, Loretta, and a son, Roy Junior. Roy, Sr. was in the United States Army for 23 years. He retired January 1979 from the United States Army. He served in Germany, Vietnam, Okinawa, Alaska, Georgia, Colorado and California. He drove school bus at Cottonwood for two years. Following that Roy worked as a long haul truck driver for more than 20 years.
He met Morris Bentley and became good friends. They went to NASCAR races and numerous fishing trips to Winchester Lake together. Morris got Roy into the American Legion Post #37 in Grangeville and he really enjoyed talking to everyone there. Roy would do anything for anyone. Just to name a few people that Roy trained and loved: Roy Jr., Sean, Mike, Kenny, Martin, Shanna, like a daughter he loved so much, Rod and Ticia, his princess as he called her, and Cliff a friend forever like a son. Roy hosted four wonderful exchange students, Niklas, Anastasia, Susanna and Mattias.
Roy is survived by his beloved wife, Velma; daughter, Loretta (David) Harper of Grangeville; brother, Jimmy (Mary Jane) Siggers; and sister, Foye (Carl) Vanderslice both of Alabama; grandchildren, Chirisa, Cody, Cara, Brandon, Faleisha, Samantha and Austin; and several great-grandchildren.
Roy was preceded in death by his parents, his son, Roy Jr., and his three brothers.
A private military service will be held at a later date. Arrangements are under the direction of Blackmer Funeral Home of Grangeville. Send condolences to the family to Blackmerfuneralhome.com.