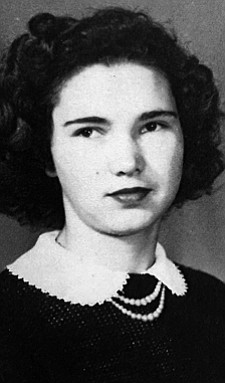 Jeanne Evelyn (Corbitt) Butler
Etna, Wyo.
May 14, 1929 - March 11, 2016
Jeanne Evelyn (Corbitt) Butler, 86, passed away peacefully at the home of her daughter and son-in-law on March 11, 2016, in Etna, Wyo., following a courageous battle with cancer. She was born Evelyn Gene Corbitt, across the Salmon River from Lucile, Idaho, on May 14, 1929, to Gladys R. (Reid) and Arthur Thomas Corbitt. Jeanne was the eldest of nine siblings and paid serious attention to her role to help raise her siblings. She led many stick-horse expeditions with her cousin, Milton, and brother, Rex, on the divide between the Snake and Salmon rivers as they explored the territory and met the characters that came to life in the stories she shared with children and grandchildren. Living her early years on the Snake River side of Cow Creek Saddle with her extended family molded Jeanne into the charming, and resilient woman that was tougher than square nails. Following graduation from Grangeville High School, she relocated to California.
Jeanne is remembered for her generous, loving, outspoken, strong and loyal nature, as well as her love of nature. She was especially proud of her grandmother (Julia (Mothorn) Reid), children, stepchildren, grandchildren and family heritage. She spent countless hours researching and locating family members through the years and organizing family reunions.
Jeanne excelled at being a mother and had few equals when it came to gardening, cooking, quilting, card games and family history. There was never a hungry person turned away from her home or a person that left the house empty-handed. It was said her freezer could feed a battalion for a month.
Throughout her life Jeanne held many titles, including caregiver, hotel/restaurant/bar owner, chef, secretary, and volunteer, but none was more important than "Mom." Once dubbed the "Pistol Packing Momma" by a big city journalist, the story told of her fierce determination to raise a family in the Trinity Mountains in Northern California. In later years, Jeanne was a dedicated volunteer for Rural Human Services Food Bank, Retired Senior Volunteer Program Pen Pal Program, Del Norte County Fair, former regent of the Cape Sebastian Chapter of the National Society of Daughters of the American Revolution, and was a founding member of the Del Norte Chapter of the National Society of Daughters of the American Revolution.
Jeanne leaves behind her beloved children, Michael Sanchez, Eric Shields (Karene), Karen Phillips (Jim), Robert; stepchildren, Steven Butler (Scotti), Carol Grandbois (Robert); grandchildren, Morgan, Jordan, Kendal, Erin, Nathan, Nicole, Michelle, Stephanie, Jennifer; and nine great-grandchildren; siblings, Rex, Donna, Juanita, Curt and Chuck; and too many cousins, nieces and nephews to name in one edition of a newspaper. Jeanne was predeceased by husband, Robert Edward Butler; stepdaughter, Marilyn Anne (Butler) Thomasson; her parents; beloved grandmother, Julia Olive (Mothorn) Reid; and siblings, Danny Sanders, Leora (Sanders) Orr, and one infant child.
At her request, no service is scheduled. A private celebration of her life will be held at a later date at the Prairie View Cemetery in Grangeville, Idaho. Though Jeanne loved flowers for their ability to brighten any day, it was her wish that any remembrance of her be made to the Idaho Community Foundation, attention Mothorn-Reid-Corbitt Family Fund, at 210 W. State St., Boise, ID 83702. This fund was established by Jeanne as a means to honor her heritage while benefitting nonprofits in Riggins, Idaho, and the Cape Sebastian, Del Norte and Alice Whitman Chapters of NSDAR.