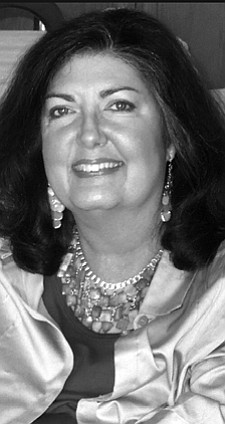 Mary G. Eckert
Fountain Hills, Ariz.
February 21, 1953 - March 9, 2016

Mary G. Eckert, 63, of Fountain Hills, Ariz., formerly of Grangeville and Cottonwood, Idaho, and Chula Vista, Calif., went peacefully to be with her Lord and Savior on March 9, 2016, after a 38-year-long battle with complications from lupus and a sudden onset of strep pneumonia with sepsis.
She was preceded in death by her parents, John and Betty Baker; brothers, Roger and Jim Baker; father-in-law, Wayne Eckert; brother-in-law, Dwight Eckert; and sister-in-law, Sally Eckert. She is survived by her husband of 40 years, Keith A. Eckert of Fountain Hills, Ariz.; daughter, Kristin Little; son-in-law, Chris Little; and grandchildren, Kaitlin, Cameron, and Connor Little of Cave Creek, Ariz.; sister-in-law, Mimi Mauro of Panama City, Fla.; niece, Jennifer Baker of Arlington, Va.; mother-in-law, Ruby Eckert-Holdahl of Fountain Hills, Ariz.; sister-in-law and husband, Lynn and Mike Fink of Fountain Hills, Ariz.; brother-in-law and wife, Rod and Renee Eckert of Cottonwood, Idaho; sister-in-law, Sharon Eckert of Lewiston, Idaho; along with numerous cousins, nieces, nephews, great-nieces, great-nephews, and other beloved extended family members.
Mary was born on Feb. 21, 1953, in Prairie City, Ore., and graduated from Grangeville High School before attending the University of Idaho, where she was a member of the Kappa Alpha Theta sorority.
Her professional career involved dental assisting prior to becoming a homemaker after the birth of her daughter. She enjoyed reading, sewing, baking and playing piano. Throughout her life, Mary inspired others with her radiant Christian spirit and strong faith, and her love for the Lord was evident to all those who were blessed to know her. She was a wonderful wife, mother, grandmother, friend and woman full of love, compassion, patience, generosity and kindness for others. Most importantly, she was a faithful servant after God's own heart, seeking His will and way in all aspects of life.
Because of Mary's belief in our Lord and Savior, Jesus Christ, we celebrate knowing that she now has her glorified body in Heaven and we rest assured that we will see her again.
The memorial service will be held Friday, March 18, commencing at 12 p.m. at Messinger Mortuary, 12065 North Saguaro Boulevard, Fountain Hills, Ariz. A graveside service will follow at Paradise Memorial Gardens in Scottsdale, Ariz.
Should family and friends desire, contributions in memory of Mary may be made to the donor's church or charity of choice.