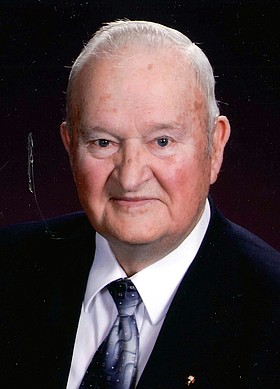 Ambrose Schumacher
Greencreek, Idaho
January 8, 1932 - March 19, 2016
Ambrose Schumacher, 84, passed away unexpectedly Saturday, March 19, 2016, surrounded by his family. Born Jan. 8, 1932, to Leo and Mary (Schmidt) Schumacher in the home on the family farm in Greencreek where he resided for all the 84 years of his life.
Ambrose spent his childhood days at the Greencreek public schools, graduating from Greencreek High School in 1950. Growing up, he was a standout athlete, and involved in 4-H. After losing his father in December of 1950, he took over the family farm, where it became the first Grade-A dairy on the Camas Prairie. He met the love of his life, Margie Feucht from Culdesac. They were married at St. Anthony's Parish in Greencreek on Aug. 27, 1955. They were true partners in love and life. They were blessed with nine children whom they raised on the family farm.
He was a faithfully involved member of St. Anthony's Parish and the Parish Council, 4th degree Knight and Columbia Squires leader. He also served his community on various boards: Federal Land Bank, Lewiston Grain Growers, Idaho County Fair, Greencreek Highway District. Ambrose worked hard and played hard. He spent many Decembers playing Santa Claus. He was proud of pitching a no-hitter in the Lewis-Clark baseball league and coaching a Hallissey basketball team. He was an avid fisherman and hunter from Fog Mountain/Selway Falls to the lakes of Buffalo Hump and the rapids of the Salmon River. He shared that same love of the outdoor life with his children and grandchildren. His sense of humor will be greatly missed at family functions that he loved to attend. He was all about family and that family surrounded him at the time of his death. He would like to be remembered as someone who cared about family, as well as having a love of life.
Ambrose is survived by his wife of more than 60 years; his children, Marilyn (Gary) Uptmor, Wayne (Ann Rice), Roy (Debbie Kelly), Andy (Mary Key), Don (Starla Miller), Tim (Cheri Enneking), Tony (Kim Sonnen), Lucy Hansen, Julie (Shane) York; 23 grandchildren; 15 great-grandchildren; and numerous nieces and nephews; sisters and brother, Bernardine Wessels, Rita Wessels, and Msgr. Andy Schumacher; and a special cousin, Werner (Margie) Schmidt; in-laws, Lora Feucht, Joan and Herb Stubbers, Marvin and Lou Feucht, Barb and Mike Broncheau.
He was preceded in death by his parents, Leo and Mary (Schmidt) Schumacher; and siblings, Leona and Arnold Wassmuth, Lawrence and Clara Schumacher, Roman and Anna Marie Schumacher, Estella and Charles (Chuck) Wilson.
Ambrose's life will be celebrated with a Mass of the Resurrection today, Wednesday, March 23, at 11 a.m. in St. Anthony's Church in Greencreek. Praying of the Rosary will begin at 10:30 a.m. Burial will be at the Greencreek Cemetery.
In Lieu of flowers, the family suggests memorials be made to the Catholic Charities of Idaho in Boise or a charity of their choice. Uhlorn Funeral Home in Cottonwood is in charge of arrangements.