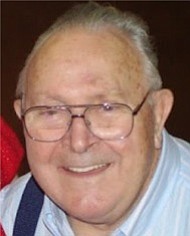 Val Vestal Jones
Stites, Idaho
September 28, 1927 - March 23, 2016

Val Vestal Jones, 88, of Stites, Idaho, passed away on March 23, 2016, at the Grangeville Health and Rehabilitation Center. Val was born to Leonard and Halcie (Cody) Jones on September 28, 1927, in Firth, Idaho. He was the youngest of five children.
He met the love of his life, Jean Ross, of Richfield, Idaho, at the Wood River Grange Hall, Shoshone, Idaho, and they were married on May 28, 1950. They began their life together in Shoshone, but moved all around the state of Idaho and finally settled in Lewiston in 1959.
Val worked many jobs in his life but mostly in mines and lumber mills, with many years at Potlatch Inc. In 1977, Val and Jean moved to Stites, Idaho, after Jean took a teaching job for the Idaho County School District. He worked for Potlatch, Inc., at Kamiah, Idaho, until the mill closed and he chose to retire. While in Lewiston, he was an active member of the IWa-Cio Local 3-364 Woodworkers Union.
After moving to Idaho County, he was a member of the Stites Odd Fellows, Idaho County Democrats, and the Friends of the Elk City Wagon Road. He loved to dance and after moving to Stites, Val and Jean went to dances throughout the Clearwater Valley. They would go to dance camps at Wilderness Gateway. Music was important to Val and he really enjoyed playing the harmonica. He also enjoyed fishing, camping, hunting, "making wood" and attending family reunions and visiting with many family members.
Val is survived by his five children, Violet (Jim) Eaton, of Shoshone, Idaho, Owen (Mary) Jones, of Nampa, Idaho, Leonard (Theresa), of Shelton, Wash., Betty (Bart) Bramell, of Lewiston, Idaho and Paul Jones of Stites, Idaho; nine grandchildren, seven stepgrandchildren, and eight great-grandchildren; his sister, Zelma (Jones) Walden, of Emida, Idaho; and a brother, Norman Jones of Bolivar, Mo.
Val was preceded in death by his wife of 64 years, A. Jean (Ross) Jones; and his parents; a sister, Vera (Jones) Bateman Randall; and a brother, Richard C. Jones.
A graveside service will be held Saturday, April 2, at noon at the Prairie View Cemetery, Grangeville, Idaho. A celebration of Val's life will begin at 1:30 p.m. at the Country Center, 4313 Hwy. 13, Stites, with a covered dish dinner to follow.
Services are under the direction of Blackmer Funeral Home, Grangeville.
The family is asking that in lieu of flowers, memorials may be made to Friends of Elk City Wagon Road or a charity of your choice.