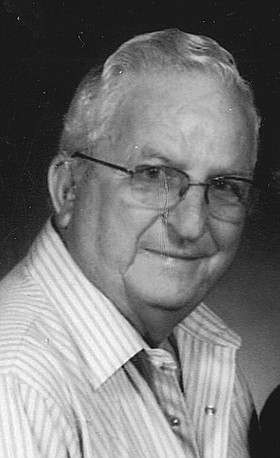 John P. Duman
Cottonwood, Idaho
December 27, 1933 - April 13, 2016
John was called to his final resting place with Jesus Wednesday, April 13, 2016.
He was born to Vincent and Anna Bogli Duman on Dec. 27, 1933, in Cottonwood, the 11th of 13 children. He attended St. Joseph's School in Cottonwood until the sixth grade. In 1946, the family moved to Mount Angel, Ore. But his love for Idaho beckoned him back, and every summer he would return to Cottonwood to work on the home place. He also worked for the Benedictine Fathers at Mount Angel, doing farm work. He dropped out of high school at age 14 to go to work full time.
At 16, John bought a Martin guitar and he and his brother enjoyed playing country music for dances and on the radio. But his whole life changed at 17, when he met a "lively" little girl named Margie Wurdinger. John was drafted into the U.S. Army in 1954, and on a 30-day pass, returned home to marry Marge on Aug. 21. They immediately moved to Fort Sill, Okla., where he was stationed, and life became "a lot less dull." Their first son, Tom, was born in 1955. After being discharged from the U.S. Army, the couple moved back to Cottonwood to live and raise their own family.
In 1957, John started Archie's Cleaners, and in the next four years increased their family with four more sons, Douglas in 1957, Denis in 1958, James in 1959 and Jack in 1960. John and Marge welcomed their only daughter, Stacie, in 1967, and were kept busy with their growing family. Marge joined John at the cleaners, and they operated it until 1977, at which time they sold it. Throughout the decades, John also logged for a number of years, tried his hand at raising sheep, operated a machine post and pole business and even operated an ice business in the early 1990s.
Buying the cleaners back in 1982, Marge was kept busy. In 1984, John went back to school to become an electrician. He and son, Denis, bought the City Electric.
John and Marge started wintering in Arizona in 1997 and eventually stayed year-round for nine years, where they managed a retirement campground for the Bureau of Land Management. They lived at the campground near Yuma, Ariz., where, besides their daily work routine, John often could be found tinkering or working on small building projects. They permanently returned home in 2009. John kept himself busy the last few years piling brush for a local logger and enjoying the outdoors.
Over the years, John was active in many community organizations, including the Knights of Columbus, Jaycees, Idaho County Young Republicans and the Idaho County Wool Growers Association. John enjoyed small construction projects, working in the yard, four-wheel rides and camping. In the early years, the average weekend was spent at Red River Hot Springs or most often heading to the high country with the Don Hoene family. Later on, the favorite destination was the Lochsa River for some swimming and tubing with grandkids.
John is survived by his children, Tom (Sohn, Heather and Beau) of Craigmont, Ron and Rhonda Schacher (Leslie, Tera, Greg and Jacob) of Grangeville, Denis and Terri (Carl, Jesse and Cody) of Cottonwood, Jack and Cara (Anthony, Lauren, Shelby, Alex, Conrad and Katteri) of Cottonwood, and Stacie and Jeff Jackson (Amanda, Ashley and James) of Ferdinand; and 27 great-grandchildren. He is also survived by sisters, Agnes Terhaar of Albany, Ore., Betty Kuthe of Bend, Ore., Catherine Brockamp of Albany, Ore., Francis Peeper of Akron, Colo., and Patricia Seubert of Shelby, Mont.
He was preceded in death by his wife of 59 years, Marge; two sons, James (1962) and Doug (1981); a granddaughter, Elizabeth; and a great-grandson, Abraham.
Funeral services were Monday, April 18, with a Rosary and funeral Mass at St. Mary's Catholic Church. Burial followed at Cottonwood Catholic Cemetery. A dessert reception followed at Cottonwood Community Hall.
Uhlorn Funeral Home of Cottonwood was in charge of arrangements.
"It has been a busy wonderful life."
— And now no one will ever find the buried strong box from the stagecoach ambush ...