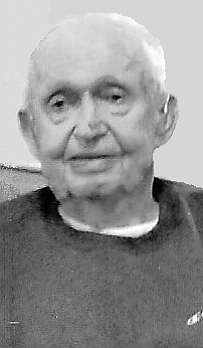 Cletus Henry Kuther
Ferdinand, Idaho
October 25, 1921 - May 6, 2016

Cletus Kuther, 94, died May 6, 2016, at the Grangeville Health and Rehab Center.
Cletus Henry Kuther was born Oct. 25, 1921, the second child of Joseph and Antoinette (Weis) Kuther. His dad was running the Kuther Cash Grocery store on Main Street of Ferdinand at that time, and Cletus was born in the family home located behind the store.
When he was old enough to attend school, Cletus went to the Ferdinand Parochial School, where he was taught by the Sisters for six years. At the beginning of the seventh grade, he moved to the Ferdinand High School.
Cletus liked to play basketball. This was before school busses, so for away games, the coach would take four or five kids in his car. The school paid a dollar or so to anyone who would take a carload of kids. As a junior, he made the starting team, which went to the state tournament in Lewiston in 1939. There were eight teams from all over the state, and Ferdinand lost their first game but won the next two and ended up with consolation.
Every summer while Cletus was in high school, his aunt and uncle, Henry and Katherine Sprute, from Fenn would come get him right after school was out, and he would work on their farm all summer until school started again. At first he drove horses until they got a big, lug-wheel John Deere tractor.
After graduating from Ferdinand High School in 1940, Cletus worked that summer on his uncle's farm and when the winter came, he went to work on a crew sawing logs around Forest. They used cross-cut saws, and the logs were hauled to the sawmill in Winchester. There were several other crews working around there, and they stayed in a little old shack, which was on wheels, so it could be moved. They brought food from home and cooked their meals there and fixed their lunches. On the weekends they would come home. Cletus thought they might have made $10 a day, which wasn't bad money.
Cletus was at home in Ferdinand when he heard on the radio that Pearl Harbor had been bombed on Dec. 7, 1941. He knew he would be drafted, so in the summer of 1942, Cletus decided to go to Spokane and enlist in the Army Air Corps. He was sent to prop school and learned how to repair the propellers on B-24 aircraft.
In 1945 when the war was over, Cletus was in the Philippines repairing the fabric wings on Piper Cubs. There were so many men waiting to go home that the company commander knew it would be faster if the men went to Tokyo, Japan, and set up in a hanger there. There were always planes coming in, and he felt they could get a ride home pretty quick.
It took them about two weeks to get to Tokyo on a ship. They were unloading things in the hangar, and Cletus had hold of one end of a big box and was backing up. There was a bunch of junk behind him that he didn't see, and he fell over it. The box landed on him, breaking three vertebrae in his back. Cletus spent the next six months in a body cast at Fort Lewis, Wash. On March 31, 1946, the day they cut the cast off, he was honorably discharged.
Cletus married Esther Kinzer on Dec. 10, 1947, and they settled in Ferdinand, where they raised their five children. He worked for Lewiston Grain Growers, now called Primeland, for 18 years as a warehouseman before being promoted to Cottonwood as the plant manager from 1971 until his retirement in 1983.
In his retirement years, Cletus enjoyed playing cards, working jigsaw puzzles, and doing needlepoint projects until his eyesight began to fail. He raised a garden and Christmas trees for many years. He liked to watch sports on television, his favorite teams being the Seattle Mariners and Utah Jazz. He was a member of Assumption Catholic Church in Ferdinand and the American Legion in Craigmont.
He is survived by four children: Joe (Kathy) Kuther of Greencreek, Lyle (Shelley) Kuther of Craigmont, Roselyn (Tom) Nuttman of Keuterville, Karol (Tim) Holthaus of Ferdinand; a daughter-in-law, Phyllis Kuther of Eagle Point, Ore.; 10 grandchildren, Erin (David) Shears of Cottonwood, Kevin (Laurie) Kuther of Boise, Nicki (Dean) Shears of Lewiston, Justin Kuther of Gold Hills, Ore., Melissa Kuther of Boise, Wade Nuttman of Ferdinand and Jennifer (Shaun) Edwards of San Diego, Calif., Clinton (Jonna) Holthaus of Cottonwood, Anissa Holthaus (Edwin Hunter) of Spring Valley, Calif., and Gina (Drew) Mosman of Nezperce.; great-grandchildren are Madison, Keenan and Carter Shears, Eden, Luke and Hadlee Kuther, Rylee, Reed and Kane Kuther, McKinley and Aspen Gerlach, Alex, Damon and Nakonia Nuttman, Micah Holthaus, Dion Hunter and Blayne, Colby and Cash Mosman; stepgrandchildren are Laynie Gerlach, Shaun Edwards II, Xavier and Brittney Hunter and Monique Wagner; sisters, Katherine Bain of Redmond, Ore., Antoinette "Toni" Haugen of The Dalles, Ore., and Marlene and husband, Ron VanMetre of Hood River, Ore.; and a sister-in-law, Bettie Kuther of Bend, Ore.
Cletus was preceded in death by his parents; his wife, Esther; a son, Ronald; brothers, Leonard and Eugene "Pooch" Kuther; and sisters, Elaine Kinzer and Marie Duman.
Rosary was recited Tuesday, May 10, at Assumption Catholic Church in Ferdinand. Funeral services will be held at Assumption Catholic Church today, Wednesday, May 11, at 11 a.m. followed by burial at the Ferdinand Cemetery. Uhlorn Funeral Home in Cottonwood is in charge of arrangements.
In lieu of flowers, the family suggests memorial donations to The Prairie Quilts for Veterans, P.O. Box 63, Ferdinand ID 83526 or Craigmont American Legion Post 38, P.O. Box 33 Craigmont, ID 83523 or the charity of donor's choice.