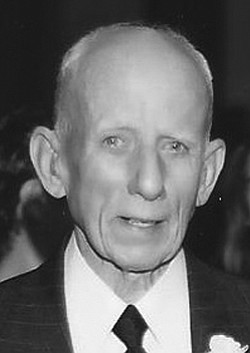 Andy Gortsema
Fairfield, Wash.
January 10, 1926 - April 18, 2016
Andy Gortsema, 90, passed away peacefully April 18, 2016. He was born Jan. 10, 1926, in the family farmhouse outside of Grangeville, Idaho, and was the sixth born of nine kids, six boys and two girls to Kryn and Sadie Rose Gortsema. Andy married Lavon Gill on June 13, 1944, and had four children, Robert, Marvin, Sherry and Gary. He and his family moved to Fairfield, Wash., in 1951 where Andy worked as a mechanic for 35 years for J Red Saunders.
Andy loved all things old and was very proud of his collection of antique farm equipment that can be seen at the family museum "The Lost Dutchman" in Fairfield. Andy was a charter member of the Inland Empire Steam and Gas Buffs and the Lewis and Clark Antique Power clubs. He was also a member of the J.I. Case Foundation, Puget Power and Machinery, and Early Day Gas Engine and Tractor Association. Andy loved to tinker and this was evident in his creation of the "Can Crusher." If you ever stopped by the Antique Farm Equipment display at the Spokane Interstate Fair, he was there running his contraption with a big smile and talking to anyone who wanted to listen. Andy touched many lives and was always willing to visit and share his many experiences. He was a loving husband, father, grandfather and friend.
He was preceded in death by his father, Kryn Gortsema; mother, Sadie Rose Gortsema; wife, Lavon Gortsema; son, Robert Gortsema; daughter, Sherry Manning; son-in-law, Melvin LeRoy Manning; and six brothers.
He is survived by his two sons, Marvin and Gary Gortsema; grandchildren, Terry (JaiLeene) DeJuan and Tamie (Calvin) Norwood; great-grandchildren, Desiree (Zach) Hill and Talya DeJuan; two sisters; and four great-great-grandchildren.
A memorial for Andy will be held Monday, May 23, at 2 p.m. at the Fairfield Presbyterian Community Church, 106 S. McNeil, Fairfield WA 99012.
The family wishes to thank the staff at Fairfield Care for their love and care of Andy.
Those wishing to honor Andy's memory can make donations to Fairfield Care, 503 S. Hilltop Lane, Fairfield WA 99012.