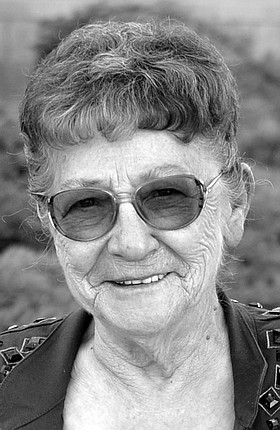 Lorraine Darlene (Wright) Kachelmier
Nezperce, Idaho
May 20, 1934 - May 15, 2016
Lorraine Darlene (Wright) Kachelmier, 81, passed away at her home on Sunday, May 15, 2016. Lorraine was born on May 20, 1934, to Earl H. and Hazel M.(Bell) Wright. She joined her older sister, Ella Mae, at home. Lorraine grew up on the farm on Russell Ridge 17 miles north of Nezperce. She attended Nezperce Schools and participated in girls' basketball, cheerleading and band. Lorraine graduated from Nezperce High School in 1952.
She married Kenneth D. Kachelmier on Jan. 2, 1954. Ken and Lorraine raised three children. Dennis was born in 1954, Rebecca in 1957 and Debra in 1965.
Lorraine held a number of jobs during and after the time she was raising a family. She worked for the Nezperce Hotel, PNB Telephone, Colley Aviation, Bell Equipment and the Lewis County Assessor. Lorraine was a talented piano player; a gifted knitter and seamstress, whose creations won many ribbons at the Lewis County Fair. She loved to dance, play bridge and pinochle, and was an excellent cook. Lorraine enjoyed watching her children and grandchildren in sports, concerts and activities. Some of her greatest memories were of camping and fishing at Johnson Bar.
Lorraine is survived by two daughters and one son. Daughter, Becky Seubert is of Craigmont; daughter, Debbie (Mark) Kelley is of Grangeville; son, Dennis Kachelmier (BK) is of Grangeville; her sister, Ella Mae Schlader of Lewiston; 11 grandchildren including Nicole Brown, Whitney Jones, Drew Kelley, Rachel Kelley, Carson Kachelmier, Karla Wood (Jacob), Kelli Smith (Jeremy), John Kennedy (Bobbi), Mike Kennedy (Tonya), Betsy Kennedy (Eric Douglas) and Ryan Kennedy (Jennifer); 12 great-grandchildren and numerous nephews and nieces.
Lorraine was preceded in death by her husband of 50 years, Kenneth in 2004. Her mother, Hazel, died in 2003 and her father, Earl, died in 1954.
A graveside service will be held at a later date. In lieu of flowers, donations can be made to the Nezperce Ambulance Fund or Nezperce Schools.