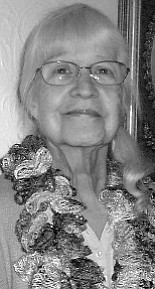 Dorothy "Dot" Christensen
Grangeville, Idaho
December 12, 1942 - May 17, 2016
Dorothy "Dot" J. Christensen, 73, of Grangeville, after a short bout with cancer in the tender and professional care of the hospice nurses, passed away peacefully at her home Tuesday, May 17, 2016.
Dot was born Dec. 12, 1942, in Pocatello, Idaho, to Paul and Laurie Gerhart, a musical family. From 1953 to 1962, she traveled with her friend, Phil, in a car named Lizzie and a dog named Boo, through 28 states singing music for a hat.
She had a fierce protective love for animals, children, the elderly and other innocents. Although a private person, she had a huge number of friends, one at a time. She always saw the good in others.
She is survived by her husband, Paul; her daughter, Rita Ramirez; her grandchildren, Gabe, Angie, Christopher, Michael, Stephanie and Isabel; also several great-grandchildren; and her nephew, Brian Spencer.
She was preceded in death by her parents, and a half-brother, and a half-sister.
A viewing will be held Wednesday, May 25, at the Blackmer Funeral Home from 2- 4 p.m. A funeral service will be held Thursday, May 26, at 11 a.m. at the Grangeville Christian Church. Burial will follow at the Prairie View Cemetery. Arrangements are under the direction of the Blackmer Funeral Home of Grangeville. Send condolences to the family to Blackmerfuneralhome.com.