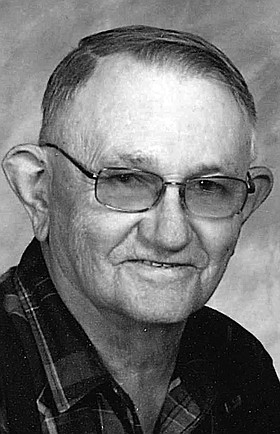 Richard "Dick" L. Schultz
Cottonwood, Idaho
April 7, 1936 - May 18, 2016
Richard L. "Dick" Schultz passed away Wednesday, May 18, 2016, at his home in Cottonwood, Idaho.
Dick was born April 7, 1936, in Lewiston, Idaho, to Leo and Helen Schultz. He lived in Lewiston for a short time before moving to Cottonwood with his parents, where he attended school, graduating from Cottonwood High School. He excelled in sports throughout his school years. He attended the University of Idaho for a short time before returning home to help his parents in their business at Cottonwood Dairy Products.
Dick married the love of his life, Joan Von Bargen, on Nov. 9, 1957, in Greencreek. Dick and Joan lived in Cottonwood, where they raised their four children. They celebrated 56 years of marriage before Joan passed away in June 2014. Dick worked at Cottonwood Dairy Products until his parents sold the business. He then spent several years as a self-employed carpenter. He finally worked at Cottonwood Elevator Co. until his retirement. He served numerous years on the Cottonwood Volunteer Fire Department. He was member of the Knights of Columbus, Cottonwood Jaycees and served on the Cottonwood City Council.
Dick was an avid outdoorsman and spent most of his free time hunting, fishing and camping with his family and many good friends. He had many a story to tell about his fishing and hunting excursions with his friends in the Gospel and Buffalo Hump areas. He spent most weekends building his dream cabin in Orogrande, starting in 1976. It took a few years but the finished product was his pride and joy, and he and Joan spent many years enjoying the completed project and the outdoors they so loved at their cabin. In their later years, after they sold the cabin, they bought a camper and spent several weeks a year camping at O'Hara and Powell.
Dick was excellent at woodworking and was a perfectionist, as could be seen in the many home remodels he did. He loved to work in his shop building models, furniture and any other woodworking projects he could find. Above all, Dick loved his family, and was very proud of his children and grandchildren and their accomplishments, whether it was winning games or bagging trophy deer or elk.
Dick was preceded in death by his wife, Joan; and his parents, Leo and Helen Schultz.
Dick is survived by his brother, Randy of Boise; son, Tim (Tanya); daughters, Sister Cynthia of Cottonwood, and Tammy (Brian) Lorentz of Grangeville; son, Tom of Moscow; his grandchildren, Nicole Lorentz, Ashley (Shane) Poxleitner, Keith Schultz and Jason Lorentz; and his great-grandson, Devon Schultz.
A Rosary vigil was held Tuesday, with the funeral Mass to following at 11 a.m. at St. Mary's Catholic Church in Cottonwood. Burial was at Cottonwood Cemetery. In lieu of flowers, the family suggests donations be made to the Monastery of St. Gertrude or a charity of your choice.