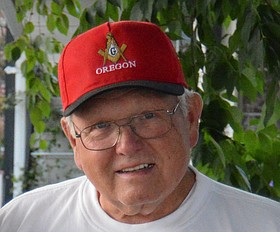 Robert J. Pearson
July 19, 1934 - October 30, 2016
Robert "Bob" James Pearson of Oregon City, Ore., died peacefully at home on Sunday, Oct. 30, 2016. He spent his last days surrounded by his loving partner and wife of nearly 50 years, Arlene, both of his daughters, sons-in-law, and all his grandchildren.
He was born to Stanley and Esther (Gillette) Pearson of Grangeville, Idaho, on July 19, 1934. He was the second of four brothers and lived his entire childhood in Grangeville. He enlisted in the U.S. Army in 1956 and was stationed in Korea following the Korean War. After the Army he returned to Idaho and graduated from the University of Idaho with a B.S. degree in mechanical engineering. During college, he pursued his lifetime passion of aviation and completed his pilot's license. After college, he moved to Oregon to start his professional career. While living in Portland, Ore., he met his lifetime partner and wife, Arlene. They were married April 22, 1967, at St Paul's United Methodist Church in Milwaukie, Ore.
He was a devoted husband, father, and grandfather first and foremost, and was blessed with two loving daughters and five grandchildren. Bob spent the bulk of his professional career working as a mechanical and computer engineer with Blount Industries (formerly Omark Industries), working there for 32 years before retiring in 1998. Bob was a member of the Carus United Methodist Church for more than 40 years where he was a fixture in the choir, served on numerous committees, and to his family's chagrin sometimes slept in the pew. He believed in the importance of reading and learning and spent his whole life pursuing his interests. He was an accomplished private pilot and flight instructor and regularly flew throughout the Pacific Northwest. He was also a talented musician and singer and performed with a number of local choirs including the Canby Pitchpipers Barbershop Chorus. Bob enjoyed square dancing with Arlene, traveling the world with family, and was an avid RC aviation hobbyist (to the detriment of his children's inheritance). Bob joined the Masonic Order late in life, served the Mollala Lodge 178 with distinction as lodge secretary and was named an honorary past master.
He is survived by his wife, Arlene; daughters, Jennifer Pearson-Gale (husband William Gale), and Patricia Pearson (husband Kinley Deller); grandchildren: Kieran, Celia and Joshua Gale, and Nara and Ameena Deller; brothers Stanley, Burton and John; numerous nieces, nephews and cousins; and his loyal sidekick, Oscar (Welsh Terrier).
A memorial service will be held at 11 a.m. on Saturday, Nov. 19, 2016, at Carus United Methodist Church with Rev. Rand Sargent officiating. A gathering for friends and family will be held after the service at the Forest Creek Park Lodge, 21065 S. Mossy Rock Court, Oregon City.
Memorial contributions may be made to either Carus United Methodist Church at 22765 S. Hwy. 213, Oregon City, OR 97045, or the Molalla Masonic Lodge 178 at P.O. Box 86, Molalla, OR 97038.
For a full obituary or to share condolences, visit https://secure.funeralhomehosting.com/hbw/notices/Robert-Pearson.