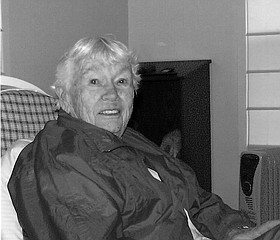 Olive May Bergin
July 21, 1925 - November 16, 2016
Olive May Bergin was born July 21, 1925, and died Nov. 16, 2016.
Olive, who started nurse's training in San Francisco, Calif., just near the end of World War II, met handsome sailor, Ed Bergin, in 1944, and that signaled the end of nursing and the beginning of a 60-year marriage. From early in their years together, Ed and Olive knew they wanted to raise their family to at least know something of God, and so they began their quest. They tried various religious endeavors, but none that really satisfied their deep longing until 1974, when, together with their four adult children, they came to know Jesus, the one who gave His life, and rose to become their life.
Olive, now a widow, was always a welcoming neighbor, delighted every time someone whom everyone else would reject, moved into their neighborhood. The needier the better! She was a good gardener and collected various vases in secondhand stores, into which she would arrange some of her flowers to give to someone who needed some loving. She always sought out the fellow in the corner, all alone.
Olive and her husband, Ed, had four children, and many grandchildren and great-grandchildren. She has lived with her only remaining daughter, Andrea, for the past 6 ½ years in Lucile, Idaho. Her sister, Win Couchman, almost 93 years old, lives in Wisconsin.
Olive recently commented that these past six years have been the happiest in her life. When she moved to Idaho, she was worn out physically. She needed total care all the time and struggled with a failing memory, failing legs, failing balance, etc. 
In spite of this, she was a real blessing to those who met her and to those who worshipped God with her. She was provided with a big rocking chair in the front row of church, right in front of the piano, and anytime you looked over, you would typically see her with her eyes closed, arms raised, as she praised Jesus. She loved Him (and still does) and He loved her (and still does). How can you improve on that for your life's summary?
A memorial service for Olive will be held on Sunday, Nov. 27, 2016, at the Salmon River Community Church at 4 p.m., Mountain Standard Time. Please come and honor the Lord with us.