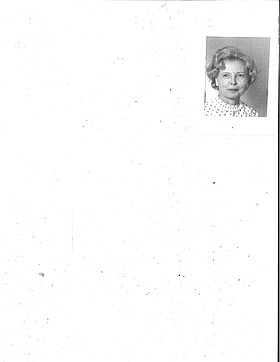 Ruth Hamilton
October 5, 1917 - August 10, 2016
Ruth Isabel Hamilton, 98, of Culdesac, Idaho, died Wednesday, Aug. 10, 2016, at home. Malcoms Brower-Wann Funeral Home of Lewiston, Idaho, was in charge of arrangements. Her body was cremated and no service is planned at this time.
Ruth was born on Oct. 5, 1917, in Roseau, Minn., and she was the daughter of Peter Alfred Nikolaus Sehlstrom and Julia Ohrn. She was raised in Roseau and she attended school there. She was baptized in the Lutheran Church and her grandpa, Solomon Sehlstrom, was the preacher there. She was seventh of 10 children: brothers, Arnold, Marvin, Leonard, Maurice, Wilbur; and sisters, Alice, Lillian, Nina and Gladys Sehlstrom.
Ruth was married to Robert Allen Hamilton on Dec. 17, 1944, in Ephrata, Wash. They had two daughters, Sarepta (Barbara) Wickstrom of Medford, Ore.; Lynn (Linda) Jessup of Redmond, Ore.; and one son, Bud (Allen) Hamilton of Centralia, Wash.
They celebrated their 50th wedding anniversary on Dec. 17, 1994. They met at the beach (swimming) in Long Beach, Calif.
Her husband, Robert, died on Aug. 17, 1995, in Lewiston. They were former residents of Cottonwood, Grangeville, Fenn and Culdesac, Idaho.
Ruth went to Jehovah's Witnesses. She was a very excellent cook. She planted the garden and canned the produce. She milked cows and made homemade butter.
Ruth and Robert moved to Cottonwood, Idaho, where his mom, Grace, owned her ranch, in September 1945, and they sold out their biggest ranch near the Salmon River to Paul and Janet Irvine in May of 1981.
Survivors include granddaughter, Consuela Hernandez of Medford; grandsons, Marcelo Leyva of White City, Ore., Valentino Leyva of Missoula, Mont.; Lorenzo Leyva of Longview, Texas; great-grandaughters, McKenzie and Kylie Leyva of White City, Gracie and Lilly Leyva of Medford, Clarissa and Cecilia Hernandez of Medford; Olivia R.N. Miller of Medford, Karmeli Leyva of Springfield, Ore.; Jestina Leyva of Missoula; great-grandsons, Christopher Hernandez of Fresno, Calif., Tyler Leyva of White City, Bradlee Leyva of Longview, Texas; great-great-grandaughter, Mylia Rose Valencia of Medford; two sisters, Nina Barton of California, Gladys Pinegar of Shingle Springs, Calif; Allen's two daughters, Kimberlee and Karmalee; and Allen's five grandchildren, Lynn's daughter, Wendy Jessup; and Lynn's son, Brandon Jessup.
Ruth was preceded in death by her husband, Robert; two grandsons, Rick L. (Christley) Leyva and Kelly E. "Brooks" Christley, Jr.; and great-grandson, Dakota D. Leyva.