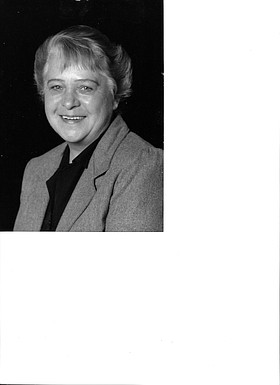 Venice LaRae Medley
March 22, 1939 - November 14, 2016
Venice LaRae Medley, 77, of Riggins, Idaho, died on Nov. 14, 2016.
Venice was born Venice LaRae Barham in Riggins on March 22, 1939. She graduated from Salmon River High School in 1957. That same year she married Joe E. Medley.
Venice took pride in her years with the postal service where she worked as clerk and postmaster in Riggins for 35 years.
Venice is survived by seven grandchildren: Wyatt, Miranda, Amelia, Ty, Casey, Trevor and Dani; brothers: Scott Darrel (DD) Barham and Ernest Nathan (Ernie) Barham; sisters: Katherine Alberta (Kate) Barham and Wanda Jean (Cookie) (Barham) Stamper; sons: Scott Medley and Neil Medley; and many great grandchildren and numerous nieces and nephews.
Venice is preceded in death by her husband, Joe E. Medley; brothers: James Benjamin (Ben) Barham, James William (Jim) Barham, John Daniel (John D) Barham, Jack Comer Barham; sisters: Jessie Louise (Barham) Spickelmire, Janice Faye (Barham) Ruark and Maria Lee (Barham) Cockran.
Memorial donations may be given to St Lukes Hospice McCall, 301 Deinhard Lane, McCall, Idaho 83638; or Riggins Cemetery Fund, P.O. Box 391, Riggins, Idaho, 83549.
The family wishes to thank the Cottages in McCall, McCall Rehab & Care Center, St. Lukes Hospice McCall, and Dr. Ostermiller for their kindness and quality of care while tending to Venice.