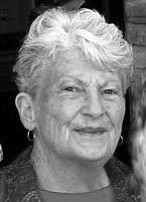 Barbara Joyce Spence
July 20, 1933 - May 30, 2016
Barbara Joyce (Swenson) (Virgin) Spence: Born July 20, 1933, went to be with the Lord May 30, Memorial Day 2016, at the age of 82.
Barbara was born to Julius and Elgie Swenson of Eden, Idaho, on July 20, 1933, attended Eden elementary and high schools, and then Warner Pacific Bible College in Portland, Ore. She attained her pastoral degree, during which she met and later married Billy (Bill) Bob Virgin of Missouri, who also attended Warner Pacific and graduated also with a pastoral degree. They worked with the youth at a local church in Portland where their oldest daughter, Sherril Kay, was born. Ministry continued in Independence, Mo., as youth pastors, then to Bowden, N.D., where they pastored; Barbara being associate pastor, and filling in for pastors in North Dakota as needed. While in North Dakota, born to them were Linda Sue, Michael Lane and Billy David. Later moving to Montevideo Minn., they pastored a Church of God, and later became independent pastors over several home churches in Minnesota. Then in the 1960s, they moved to Twin Falls, Idaho, to pastor Highland Chapel, then back to Minnesota where they pastored three home churches, the circuit being 150 miles alternately covered by both of them while also pastoring a home church in Highland Park, Minn. During this time, Deborah Lou Virgin was born in 1966.
In 1967, Billy Bob Virgin went to be with the Lord, leaving Barbara with five children; the youngest, Debra Lou, at about 8 months old. Though Barbara was asked to continue pastoring the churches, she felt she needed family support and moved with her children to Gooding, Idaho, her folks having room for her and the children to have a home next door. Barbara worked and continued her education at the College of Southern Idaho, then later at Idaho State in Pocatello, graduating with a masters in education.
In 1971, Barbara became acquainted with Minister Charles R. Spence as he filled in for the Assembly of God sastor in Gooding. Charles was a single parent of four children, living in Rupert, Idaho. Charles and Barbara married that year and Barbara with four of her children — the youngest four years old — moved to Rupert, while her oldest finished high school in Gooding.
In 1975, the Spence family with several of their older married children moved to Elk Lake Road in Idaho County. They enjoyed family and friends with a vision for a Christian retreat ranch. With circumstances things changed; however, the years with family and friends were enjoyable.
Charles R. Spence passed away here in the mountains on Elk Lake Road, Aug. 4, 2011, at the age of 82.
For the next few years Barbara lived at several assisted living facilities in the Boise valley.
Barbara went to be with the Lord, Memorial Day 2016, at the age of 82.