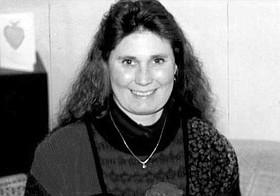 Debra Yvonne Jones
January 8, 1959 - September 25, 2016
Debra Yvonne Jones died on Sept. 25, 2016, at St. Alphonsus Critical Care Unit in Boise, Idaho, from extreme medical problems. She is survived by her parents and various family relatives.
Debi was born on Jan. 8, 1959, at St. Luke's Hospital in Boise to Edwin F. and Donna J. Jones. She attended Meridian schools starting in kindergarten through most of high school and later received her GED.
She loved life and had many friends. In her younger years she enjoyed riding her horse, doing ceramics class, playing with her various dogs and attending church activities. She also liked going to her parents' cabin in Placerville, Idaho, where she rode a small trail bike, hiked up mountains and snowmobiled in wintertime.
She married Duane Amyx in 1974. They lived in Boise, but this ended in divorce. Debi moved to Riggins, Idaho, where she joined YWAM and traveled around the United States and Korea. She enjoyed this ministry.
She married Bill Nichols for a few years, living in New Meadows, Idaho, and then Pinehurst, Idaho, where she worked at Pinehurst Trading Post. This marriage ended and she lived by herself studying and achieved her CNA. She worked at the care center in McCall.
Debi moved to McCall and while there met Larry Dolsby, but they later divorced. She moved to Riggins, Idaho, where she worked at Salmon Rapids Lodge for a time until medical problems dominated her life. She was on disability, living in her apartment with Daphne, her dog until death.
Thanks to all caregivers, helpers and friends who loved and cared for Debi.
A memorial service is planned for Wednesday, Oct. 12, 2016, at 2 p.m. at the Salmon River Community Church in Riggins with fellowship and refreshments following. Services are under the direction of the Heikkila Funeral Chapel. Everyone is invited. Private commitment will be at Riggins Cemetery.