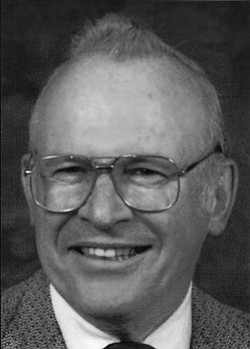 Richard "Dick" Halstead
July 24, 1928 - October 2, 2016
Richard "Dick" Halstead, 88, died on Sunday, Oct. 2, 2016, in Turner, Ore. Dick was born July 24, 1928, on a farm near Berkshire, New York. He was the oldest of three boys, born to William Halstead and Louise Lockwood Halstead.
Dick met Lorene Coon in Boise, Idaho, and they were married there a year later on Aug. 14, 1948, at the First Baptist Church. After moving to Idaho, he worked as a checker and truck driver for Idaho Creameries (now Meadow Gold). They lived the first six years of their marriage in Boise and then they bought a farm west of Boise where they raised Hereford cattle. While farming, Dick drove freight semi-trucks for Union Pacific Railroad out of Nampa, Idaho. During this time, three daughters — Sharlene, Marilyn and Sherry — were born to them. They were active members of the Red Rock Christian Church where Dick was an elder and taught Sunday School.
In 1961, feeling called to the ministry, Dick moved the family to Eugene, Ore., so he could attend Northwest Christian College (now Northwest Christian University) where he graduated with a Bachelor of Theology ministerial degree. While attending college he pastored the Mount Zion Church of Christ in Dexter, Ore.
Upon graduation, he was awarded the distinguished student full scholarship at Phillips University in Enid, Okla. While earning his Masters of Divinity they lived in Nash, Okla., where he pastored the First Christian Church. Their son, Rick, was born during this time.
After seminary, Dick pastored the First Christian Church in McMinnville, Ore., where he also had a weekly devotional program on radio station KMCM for five years. Additionally, he was chairman of two citywide "Christ is the Answer" crusades, which featured well-known Oklahoma evangelist, Larry Jones. He pastored churches at Mill City, Ore., and Gates, Ore., and Nezperce, Idaho.
Dick enjoyed deep-sea fishing off the Oregon Coast, farming, gardening, rodeo, gospel music and cutting firewood. He was preceded in death by two daughters: Lori Ann Halstead in 1964 and Sharlene Hoffmaster in 2013; plus one great grandson, Thompson Christian in 1997. His survivors include his wife, Lorene Halstead of Turner; his brother, George Halstead of Port Byron, NY; two daughters: Marilyn Ferguson of Ocean Shores, Wash., and Sherry Perdue of Keizer, Ore.; one son, Rick Halstead of Lynnwood, Wash., seven grandchildren; and seven great-grandchildren.
Memorial services were held at Turner Christian Church in Turner, on Friday, Oct. 7, 2016. In lieu of flowers, donations can be made in his memory to Gates Community Church in Gates, Ore., the Turner Christian Church in Turner, or the American Heart Association. Serving the family is North Santiam Funeral Service, Stayton, Ore.