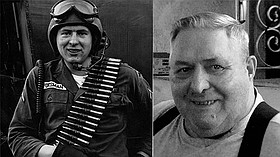 Marvin B. Forsman
August 21, 1941 - October 20, 2016
Marvin B. Forsman, 75
Marvin B. Forsman, 75, peacefully died Thursday, Oct. 20, 2016, after a battle with COPD. He was born Aug. 21, 1941, to Loretta and Alvin Forsman in Greencreek, Idaho. He was the first of 10 children.
He attended public school in Keuterville and St. Gertrude's Academy in Cottonwood. He proudly served in the Army from 1960 to 1963 as a tank operator. After his time in the service he became a proud logger for more than 35 years.
On Nov. 26, 1966, he married Connie Berklund. Five children were proudly welcomed: Marva Jean Murphy, Jess (Devonna) Forsman of Lewiston, Idaho; Donna (Terry) Mayer of Lewiston; Scott Forsman of Kooskia, Idaho; and Ryan (Reena) Forsman of Kooskia. There are six grandchildren and six great-grandchildren and several step-grandchildren; and his wonderful dog, Dee; and surviving siblings, Vick, Marlys, Erb and Phyliss; and many nieces and nephews.
He was preceded in death by his wife, Connie; and daughter, Marva Jean; his parents, Loretta and Alvin; siblings, Dennis, Dale, Carol, Gene and Wayne.
Funeral Services will be Friday, Oct. 28, 2016, at Trenary Funeral Home Chapel in­­ Kooskia. Viewing will be at 10 a.m. to noon. Funeral service will start at 1 p.m., interment with military honors will follow at Pine Grove Cemetery. The Kooskia I.O.O.F. hall will be open at 10 a.m. for all friends and family to gather and enjoy a potluck after the services. A memorial service will be held in Elk City, Idaho, at noon, Saturday, Oct. 29, 2016, at the Elk City VFW hall. You may send condolences to the family at trenaryfuneralhome.com.