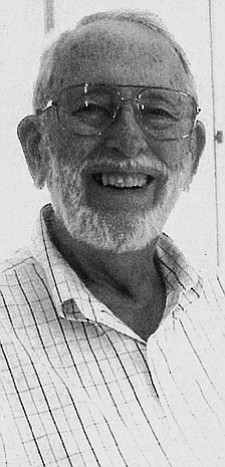 Robert C. Fortin
Berea, Ky.
October 28, 1920 - October 19, 2016

Robert C. Fortin went to be with the Lord, Oct. 19, 2016. He died peacefully in his sleep at the Terrace Nursing Home, Berea, Ky. Robert was born Oct. 28, 1920, to Addie Melinda Lovelace Fortin and William Henry Fortin, just north of Fenn, Idaho.
His older sister, Doris Kildgore, and two younger brothers, Vern Fortin and Louis Fortin, are deceased. He grew up on a farm on Camas Prairie, milking cows, making hay, raising cattle and mending fences. In June of 1942 he received the BSEE degree from University of Idaho, got married to Lois Hazelbaker, moved to the east coast and worked as an electrical engineer for RCA for 40 years. Some of his accomplishments were designing the proximity fuse, instrumental to the winning of the Battle of the Bulge in WWII, bomb guidance systems, and a variety of radar appliances. He later worked on the "moon shot" land and rendezvous radars.
He is survived by his first wife, Lois May Fortin of Grangeville, Idaho; his four children and their spouses: Glenn and Kathy Fortin of Downingtown, Pa.; Lane and Wanda Fortin of Winnemucca, Nev.; Louis and Elaine Fortin of Dayton, Ohio; and David and Nina Stoy of Crab Orchard, Ky.; as well as many grandchildren and great grandchildren. He is also survived by his second wife, Diana Fortin of Stamford, Conn.; and stepson, Mark Adler and children. He was a kind, generous, loving father and grandfather with a fine sense of humor who will be greatly missed.
In closing his memoirs, he wrote "Should it please my Creator, I would join my mother in her dream of living her heavenly evenings resting under the Tree of Life on the banks of the River of Life with all her children and children's children about her. And I wish to be amazed by my Creator and His creation".
Condolences may be left at www.lakesfuneralhome.com .