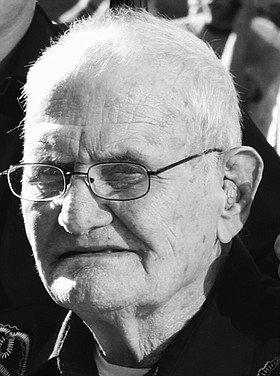 Richard "Dick" Harry Gill
September 20, 1929 - May 22, 2016
Richard Harry "Dick" Gill, 86 entered into rest May 22, 2016. Dick was born Sept. 20, 1929. Dick suffered daily with Alzheimer's, which ultimately resulted in a head injury, and extended stay in a rehabilitation facility in Spokane, Wash.
Dick spent 18 months on the front line in Korea, ending his service as an Army sergeant. He returned to his hometown of Kamiah, Idaho, married his wife, Lorna May Sanford, in Clarkston, Wash., in 1953. He worked on the construction of U.S. Highway 12, north of Kooskia. He attended trade school in Yakima, Wash., and Spokane.
Dick secured employment at Brown Motors in Grangeville, Idaho. He worked as a welder and diesel mechanic for Brown Motors, and Caterpillar tractors for more than 13 years.
After leaving Brown Motors, Dick focused on his lifelong dream of farming. Dick, and brother Glenn, enjoyed numerous growing seasons together around the Big Butte area, Tahoe, and the Camas Prairie. Upon retiring, Dick and Lorna moved to Spokane to be closer to their grandchildren. "All I want to do is be a grandpa!"
Dick had a famous quote, "Either lead, follow, or get the hell out of my way!" It rang through the ears of kids and farm hands alike. Farming was his passion. from the farm at Winona growing up, to the cattle ranch of Tom Robinson on Lawyers Creek south of Kamiah, his dream came full circle when he and his brother, Glenn, leased the upper farmland of Tom Robinson in 1974.
He is survived by wife, Lorna, of 62 years; daughter, Sandra Nickerson; grandchildren, Mackenzie and Cody Nickerson; and numerous nieces, nephews and cousins.
Dick was preceded in death by parents, Harry and Minnie (Pfannebecker) Gill; sister, Marjorie Kiesz of Odessa, Wash.; and brothers Dale and Glen Gill of Kamiah.
Dick will be greatly missed by his family and friends.
A celebration of life will be held Saturday, Sept. 17, 2016, at 1 p.m. at the Blackmer Funeral Home in Grangeville, Idaho. He will be honored in the Washington State Veterans Memorial Gardens, near Cheney, Wash. Send condolences to the family to Blackmerfuneralhome.com.
Services for Richard Harry Gill
September 17, 2016

Celebration of Life: 1 p.m.