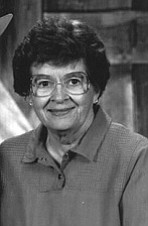 Virginia Rosamond Arnold Ketcham
Grangeville
March 9, 1919 - September 4, 2016
Virginia Rosamond Arnold Ketcham, 97, was born in Grangeville, Idaho, on March 9, 1919, to Royal Ross Arnold and Elta Moorman Arnold. She passed away at her home on Sept. 4, 2016. She attended schools across the Camas Prairie including Star and Red Rock and was educated at Lewis-Clark Normal and University of Idaho, becoming certified as a teacher in 1939. She taught at Star School from 1939 to 1941, spending summers working with her outfitter cousin, Gertrude Maxwell, in Elk City.
In 1941, she moved to Los Angeles, Calif., to work at Lockheed Aircraft Company in support of the war effort. She was an original "Rosie the Riveter" helping to build the PVII Harpoon Attu Warrior bomber. In 2012, she attended the Warbird Weekend at Idaho County Airport where she visited with the owner and pilot of a restored model. It was a highlight of her later years.
Virginia married Cornelius H. "Bill" Ketcham III in 1944. They worked in California, Arizona and Montana before returning to Grangeville in 1945. Virginia and Bill went into the logging business with her sister and husband, Maxine and Harold Pell. The Prairie Logging Company evolved into the Prairie Lumber Company sawmill and, later, Prairie Land and Timber and Prairie Tree Farms. Bill passed away in 2003.
Virginia and Bill both had a love for horses, raising and showing champion American Quarter Horses for many years. In 2008, they were inducted into the Idaho Quarter Horse Association Hall of Fame.
She loved music, playing old standards, country and jazz on the piano and organ. She was an avid reader, in later years relying on audio books for enjoyment. She was always ready to discuss politics and enjoyed putting her political views into poetry. She was blessed with many fine horses and dogs in her life and was especially fond of Alex, a German Shepherd, who kept her company the final years of life.
Virginia was preceded in death by her husband, Bill; her parents; her sister, Maxine and brother-in-law Harold Pell and their son David; nephew-in-law, Ted Kelley; and her stepdaughter, Mary Jo Ketcham. Surviving family includes her niece, Maxine Pell Kelley and sons, Stephen (Adina) and Mark (Debbie); niece, Patricia Pell (Bryan) Cash and daughters, Jinny and Marianne (Matt Rockwell) and son, Brad (Ja'nice); stepson, C.H. "Pete" Ketcham IV and son, C.H. "Kelly" Ketcham V and daughter, Carrie Ketcham Bryant; Mary Jo's son, Scott Davis and daughter, Shawna King; and nephew, Richard (Alice) Jackson.
She had the love and support of several wonderful caregivers over the years since Bill's death.
A service will be held at the Gospel Tabernacle in Grangeville on Saturday, Sept. 17, at 2 p.m. with burial following at Prairie View Cemetery. Arrangements are under the direction of the Blackmer Funeral Home of Grangeville. Send condolences to the family to Blackmerfuneralhome.com. In lieu of flowers, please make donations to Animal Ark.
Services for Virginia Rosamond Arnold Ketcham