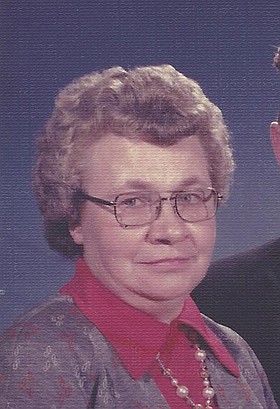 Dorothy A. Meyer
Grangeville, Idaho
February 11, 1927 - September 13, 2016

Dorothy A. Meyer, 89, of Grangeville, Idaho, passed away Tuesday, Sept. 13, 2016, at the Grangeville Health and Rehab Center.
Dorothy was born Feb. 11, 1927, at Sioux City, Iowa, a daughter of Emil and Eliza Boheman Fischer. She moved to Mission Hill, S.D., as a child where she attended grade school and her first two years of high school. She moved to Grangeville in 1943 and graduated from Grangeville High School in 1945. Following her education, she worked at the Western Auto store and the Blue Fox Theatre. She married Kenneth Meyer on Aug. 22, 1948, in Grangeville.
She was a 4-H leader for 10 years and a Campfire Girls leader for four years. She was also a member of the Charity Grange, Idaho County Pomona Grange, Idaho State Grange, and the National Grange. She served as secretary of the Charity Grange and the Pomona Grange. She held other offices since joining the grange in 1953. She and her husband, Kenneth, were awarded the Idaho Young Couple of the Year in the grange in 1961. She was awarded the first Young Woman of the year award in 1960 by the Grangeville Jaycettes (Woman's Community Service Award). They squared danced in the early 1950s and began dancing again in 1980 until 2000. Kenneth passed away in 2005. She continued activities until 2012 when failing health began.
She enjoyed crossword puzzles, sewing, crocheting, reading, traveling and square dancing.
She is survived by her son, Roger Meyer of Grangeville; her daughter, Diane (Ed) Obermeyer of South Beach, Ore.; her grandchildren, Shawn Obermeyer, Brian Obermeyer and Rhiannon Meyer; and her great-granddaughters, Michael'e Obermeyer and Amelia Stenci. She is also survived by her brother, Walter "Skip" Fischer of Denver, Colo.; and her sisters, Lorene Smith of Northport, Wash., and Adeline Derrick of Grangeville. In addition to her husband and parents, her brothers, Earnest, Paul, Bernard, Herman, Ed, and Wilbert, and sister, Elaine Brown, died earlier.
Services were held, Tuesday, Sept. 20, 2016, at Blackmer Funeral Home with Pastor Mike Musegades of Trinity Lutheran Church officiating. Family suggests memorial contributions may be made to the Idaho Elks Rehab Hospital in Boise. Send condolences to the family to Blackmerfuneralhome.com.