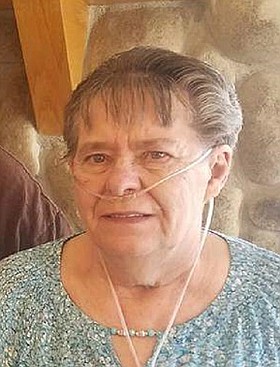 Linda S. Canaday
White Bird, Idaho
unknown - September 12, 2016

Linda S. Canaday, formerly of White Bird, died peacefully with her kids by her side on Monday, Sept. 12, 2016, at St. Joseph Regional Medical Center. She was 67.
Linda, the daughter of the late Albert and Grace Miller, was born Nov. 17, 1948, in Boone, Iowa. She married Gary Johnson in 1968. They had two children: Teresa and Gary (Joe). Gary died in 1969. She later married Ben Canaday on Aug. 8, 1970. They were trying to decide where to start their new life together when they laid out a map and told Gary (Joe) to step on it to figure out where to relocate. And he stepped on Idaho. They moved to Idaho and then along came Polly :), making the family complete. Ben died on Sept. 10, 2000.
She held a variety of jobs throughout her lifetime. She enjoyed traveling around the U.S. in their RV, taking four-wheeler rides, camping, gardening, playing cards, visiting family, friends and spending time with her grandkids. After Ben passed away, she moved around a lot, and made several new friends.
Linda is survived by her three children, Teresa Alley, Gary (Lisa) Canaday, and Polly (Jim) Mozingo; 12 grandchildren (Gerry Hosley, Ben (Amber) Hosley, Taylor (Mark) McColloch, Dylan Canaday, Colby Canaday, Kendra (Ronnie) Chandler, Tyler Ross, Justin Ross, Dalton Ross, Mike Mozingo, Nathan Mozingo, and Logan Mozingo); and four great-grandchildren; Ally McColloch, Gunner Chandler, Preslee Hosley and Zane Mozingo. She is also survived by two brothers, Robert (Alice) Miller and Dean Miller; and five sisters; Dorthe Smith, Emma (Larry) Pharoah, Mary Jo Duncan, Judy (Steve) Ball, and Barbara Lemke. She is survived by a brother-in-law, Fred (Virginia) Canaday and a sister-in-law Phyllis Canaday.
She was preceded in death by her parents, Albert and Grace; husbands, Gary and Ben; granddaughter, Jessica Hosley; brothers, Richard and Billy; her sister, Rosie; and her mother and father-in-law, Butch and Polly Canaday.
Cremation has taken place. She will be put to rest next to Ben in a private family service. A celebration of her life will be held on Saturday, Sept. 24th at 11 a.m. at the IOOF Hall in White Bird, followed by a potluck dinner. Arrangements are under the direction of Blackmer Funeral Home in Grangeville. Send condolences to Blackmerfuneralhome.com.