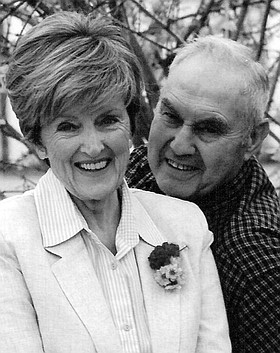 Jean Thomason
December 9, 1932 - September 22, 2016
Jean Duer Thomason, 83, died and went to be with her Lord and Savior, Jesus Christ, early in the morning of Thursday, Sept. 22, 2016.
She was born Jean Ruth Louise Duer on Dec. 9, 1932. She was the youngest child and only daughter born to John Raymond Duer and Leona Lottie (Langloss) Duer. Her siblings included Harold, Jack, Dale, William and Donald, all of whom preceded her death.
Though born on a dark and cold day in Bradwell, Saskatchewan, Canada, she spent the next 83 years brightening the lives and warming the hearts of those she knew. Her father died when she was 12 and she and her mother moved to Southern California to be near friends and family. There she married Neville A. Scott. They had one son and later divorced.
While visiting her brother's family in Montana, Jean was introduced to the love of her life, Ardis C. Thomason. They married and had five more sons and one daughter. She was a wonderful wife and mother. The family followed the timber industry for many years living in various communities in north Idaho and Montana. Her children were blessed to have been raised and loved by a mom who cared for both their earthly needs and their eternal destination. She will be remembered for her hospitality, generosity, kindness and quirky sense of humor.
Jean is survived by her loving husband, Ardis; and her children Michael (Tina), Shawn (Deanne), Timothy (Christina), Lincoln (Teresa), Jill (Colley Jacobs), James Marcus (Robin) and Christopher Jack (Cheryl). She was also blessed with 18 grandchildren, several nieces, nephews and a foster son, Andrew Wozniak and his family.
The family would like to thank her nurses, physicians and caregivers, especially Crystal and Tracy, as well as the professionals at Syringa Hospital Hospice, all of whom, along with her son, Lincoln, made certain every need was lovingly met.
In lieu of flowers, the family suggests memorial gifts to: Samaritan's Purse, P.O. Box 3000, Boone, N.C., 28607; or at samaritanspurse.org.
A memorial service will be held at 2 p.m. Friday at Mountain View Funeral Home, 3521 Seventh St., Lewiston. Please sign the online guest book at mtviewfuneralhome.com.