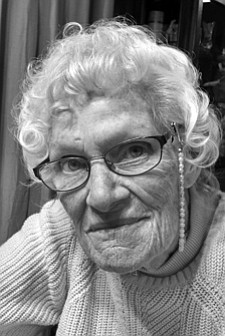 Helen Castle
June 22, 1928 - April 3, 2017
Helen Parker Garlick Castle, 88, died Tuesday, April 3, 2017, at her home in Orofino, Idaho.
Born on June 22, 1928, and raised on a small farm in Galesville Wisc., with her three brothers and sister, Helen started a nearly 50-year teaching career in 1946 at a one-room school in Minnesota and attended college at night. She eventually obtained a master's of science degree in education with a reading education specialization. Helen taught for more than 50 years as a teacher's aide, teacher, and after retirement as a substitute teacher. She and her husband of 67 years, Martin Castle, taught in Idaho, Washington, North Dakota, Wisconsin, Alaska, Ontario Canada, and China.
She and her husband traveled the world spending time in Germany, Norway, and China. In her mid-80's Helen wrote and published two books about her teaching adventures. A Life of Extremes describes her family's adventures teaching Ojibwa Indians in the Canadian wilderness in the early '60s. 40 Years to My Destination recounts five years of teaching in a remote Eskimo village near the shores of the Bering Sea in Kipnuk, Alaska.
Helen is survived by her husband, Martin Castle; five children: Martin Castle, Jr., and wife Deb Sugerman Lee, N.H., Kathleen Castle and husband Gerry Cox, Colville, Wash., Julie Castle and husband Don George, Orofino, Mary Pinheiro and partner Mike Tickner, Syracuse N.Y., Parker Castle and wife Angela Castle, Stafford Va.; 10 grandchildren, five great-grandchildren, and two of her brothers.
In lieu of flowers please make a memorial gift to the Orofino United Methodist Church, PO Box 424, Orofino ID 83544.