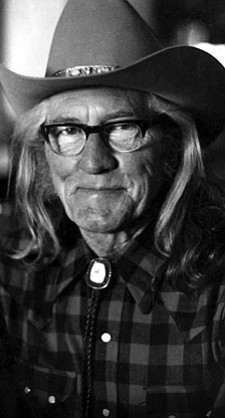 Milton "Pappy" G. Wash
August 7, 1919 - April 3, 2017
Milton G. "Pappy" Wash was born Aug. 7, 1919, in Millville, Ky., and he died April 3, 2017, in McCall, Idaho. Cause of death was "the sand ran out of the glass."
Well, Pappy succumbed to the things afflicting him, but he lived a long and diverse life. He is survived by daughter, Glenna; and sons, Jeffrey, Dan and Ben; grandchildren and one great grandchild; in-laws and some outlaws, too numerous to list here, but you know who you are; and friends, everyone who met him loved him. Dan and Heidi took care of him at the end.
How do you capture the life of a man who was born at the end of the Spanish flu and lived to see the information age?
You can't, but he did so much: revenue agent, deputy sheriff, gold miner, security man, heavy equipment operator, and all-around good man and father. He was often quiet, but once you got him talking, his stories were fascinating and his memory was sharp. He loved going naked in the sun and was a 50-year member of the American Sunbathing Association.
Pappy taught us all that our bodies are nothing to hide or be ashamed of. He liked to watch the world go by and did that for almost 30 years after he retired from work at his aerie overlooking the Time Zone Bridge in Riggins. Husband of Evelyne Pickett, then not, then part of an extended family that defied convention, Pappy became part of the Joe Pickett family that formed with Evelyne's second marriage. They all lived an interesting life up on the hill and will be missed as the passing of an age.
See you later, Pappy. Watch your back.