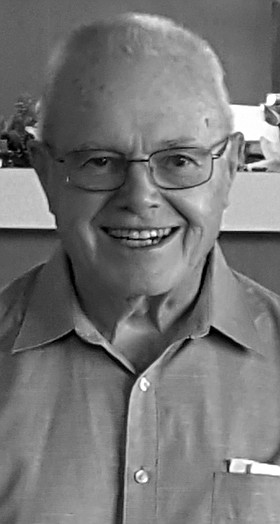 Glenn Beverly Vawter
August 14, 1926 - April 10, 2017
Glenn Beverly Vawter, 90, of Clarkston, Wash., died in his home surrounded by his family on Monday, April 10, 2017, from aortic stenosis.
He was born Aug. 14, 1926, in Culdesac, Idaho, to Arthur and Gladys (Parks) Vawter. He grew up in Culdesac with his five brothers and sisters. He enlisted in the US Navy at 17 and served in the Philippines during World War II. He was chosen to be the engineer on the admiral's skimmer. Glenn turned 19 in the Philippines on VJ Day, 1945.
After the war ended, Glenn moved to Pocatello, Idaho, and enrolled at Idaho State College where he met Laura Beth Coppedge. They married on Aug. 13, 1951, at the Community Church of Santa Rita, N.M. Glenn and Laura's three children were born in Nevada while Glenn was working for Simplot and Dodge Construction. The family lived in California and then in 1957 moved to Lewiston, Idaho, where Glenn worked for the Camas Prairie Railroad. In 1962, the family moved to Grangeville, Idaho, where Glenn owned and operated G&D Motor and Machine until his retirement in 1988. During their retirement, Glenn and Laura enjoyed many years traveling in their motor home and then lived in Arizona during the winter months. In 2006, they moved to Clarkston and built a home overlooking the river.
Glenn enjoyed working with his hands as a machinist as well as in his many hobbies, including gardening, golfing and woodcarving. He and Laura spent many years creating award-winning waterfowl and songbird carvings. When asked about their carvings, Glenn would say, "I whittle and she paints."  He enjoyed taking and teaching classes and was a member of the Montana, Calif., and Idaho Woodcarvers. His last project was wooden, handheld crosses, which he enjoyed sharing with many people. Glenn and Laura also golfed together and enjoyed many activities with friends in Idaho and Arizona. Glenn made two holes-in-one during his lifetime.
He was an active member of the Clarkston United Methodist Church and Interlink of Clarkston where he enjoyed volunteering his time and skills to help build ramps for those in need.
Glenn is survived by his wife of 65 years, Laura Vawter of Clarkston; daughters, Glennda Griffin (Michael) of Grangeville, and Marla McCue (Tom) of Beaverton, Ore.; son, Roger Vawter (Tish) of Idaho Falls, Idaho; sisters, Melba Ashburn of Lewiston and Erma Hund (Dutch) of Sedro Wooley, Wash.; brothers, Ellis Vawter (Gladys) of St. Maries, Idaho, and Skip Vawter (Kay) of Lewiston; grandchildren, Karla Staihar of Hillsboro, Ore., Jeremy Burress (Tiffany) of Hillsboro, Sarah Shepherd (Robert) of Lewiston, and Tammi Schneider (Troy) of Tigard, Ore.; seven great-grandchildren, Natalie and Jonathan Staihar, Samantha and Alexandra Burress, Claire Shepherd, Trey and Tarin Schneider; and many nieces and nephews. Glenn was preceded in death by his parents; his sister, Velda Hogaboam; three infant siblings, Irene, Marvin, and Teddy Vawter; and infant grandson, Michael Griffin, Jr.  
A memorial service will be held on Sunday, May 28, 2017, at 2 p.m. at the Clarkston United Methodist Church, 1242 Highland Avenue, Clarkston, Wash., officiated by Rev. Cody Stauffer. In lieu of flowers, donations may be made in honor of Glenn to the Clarkston United Methodist Church, Interlink of Clarkston, or Elite Home Health and Hospice of Clarkston.
Glenn will always be remembered for his smile, love of family and friends, and his beautiful gardens.