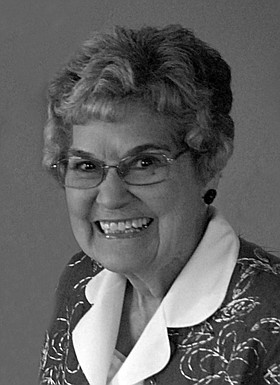 Hazel Marie Olson
December 12, 1920 - February 4, 2017
Hazel Marie (Hill) Olson was a lifelong educator and learner. She was born in the family home in Winona, Idaho, on Dec. 12, 1920, and died in Garfield, Wash., on Feb. 4, 2017, at the age of 96.
Her childhood in Lewis County, Idaho, was filled with extended family.
She was salutatorian of her graduating class at Nezperce High School in 1938. In high school, she worked at the local USDA office to earn college funding. She graduated with a teaching degree from the Normal School in Lewiston, Idaho, in 1942. Her first teaching experience was at Hart School north of Craigmont, Idaho, where she taught all eight grades and earned $80 per month. That summer she worked as a "flunkie" at Camp 14, a Potlatch Forest logging camp. She met the camp boss, Oscar Olson, and was impressed with him. She married him Nov. 12, 1942, and moved into the logging camp with Oscar.
They moved to the Olson family farm west of Deary, Idaho, in 1943, and Oscar's son Jerry made them a traditional family, to be increased by the birth of Rich in the fall of 1943. When the U.S. entered World War II Boeing expanded aircraft production for the military, and the family moved to Renton, Wash., to work for Boeing, where Hazel became a true "Rosie the Riveter." After the war, they moved back to the Olson family farm. The family grew with the births of Keith and David, and Hazel returned to teaching elementary school in Deary and Bovill, Idaho, where she taught off and on until 1983, taking a break of six years following the birth of Carla. She earned a bachelor's degree in education from the University of Idaho in 1970 and a master's degree in special education from the U of I in 1971. She continued to teach special education until her retirement.
Following the death of Oscar in 1985, Hazel moved to the Sonary Crest community in Clarkston, Wash., where she enjoyed community activities, worldwide travel and hosting "Grandma Camp" for her 10 grandsons in the summers. Her last years were spent near family at Ladow Court in Garfield, Wash.
Her life was marked by lifelong curiosity and learning, and love of spending time with family and friends. She touched many lives with her smile and positive outlook on life.
Hazel is survived by her children: Rich Olson (Judy), Keith Olson (Rhonda), David Olson (Patricia) and Carla Olson; and by 12 grandchildren and many great-grandchildren, the great loves of her life.
She was preceded in death by her husband, Oscar; her stepson, Jerry; and her granddaughter, Peggy; her parents, Harry and Marion Hill; her brother, Cecil Hill; and her sister, Clara Meacham.
At her request, no services will be held and she will be laid to rest next to Oscar at the Pinecrest Cemetery in Deary later this spring.
Memorial contributions in Hazel's honor may be made to an educational institution of your choice. Kramer Funeral Home of Palouse is caring for the family. Online condolences may be left at www.kramercares.com.