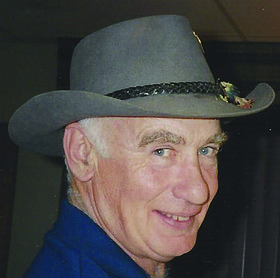 Lester Frederick Lowe
July 24, 1943 - February 5, 2017
Anyone who has had the privilege of writing an obituary for a parent or loved one knows that it is impossible to include all of the major aspects of a person's life who has lived every day to its fullest potential. As you read through or listen to this synopsis of Lester's life, we would ask that you remember the good times and the interactions you have had throughout his 73 years. Maybe you want to jot these memories down or share the experiences with your loved ones.
Lester Frederick Lowe, 73 of Riggins joined his other loved ones on Sunday, Feb. 5, 2017, surrounded by his family. He passed from a very short illness that caused acute major organ failure at St. Luke's Hospital in Boise, Idaho. He passed away with confidence and in peace.
"Les Lowe from Idaho" was born July 24, 1943, as the second child and oldest son to Jeurald and Tressie Lowe. He joined his oldest sister Jeraldine (Herb Walker), and later became the older, big brother of brothers and sisters: Lorraine (Glenn DeFord), Marlene (Mike Heath), Joaquin (Verna), Quirt, and Bryan (Barb). Lester was born in Eugene, Oregon. He and his family were a bit nomadic in his younger years. They moved back and forth between Oregon and Idaho many times before settling in the Salmon River Canyon.
Early on, Lester loved the mountains and the river and all of the attributes each had to offer. He ran the mountains all of his life and appreciated the solitude of nature. He gained much of his strength and inner peace from the tranquility of the mountains and nature around him. He loved hunting, fishing, camping, or any outdoor activity with friends and family. He had endless hunting stories that you as a friend or family member can insert here.
Lester started working with the land and animals at a young age. Around age nine, when he was not with his parents and family, Les went to Virgil Waddle's in New Meadows Valley, worked on Virgil's ranch, and learned the ways of a ranch. This experience carried him through many different ranching jobs in his lifetime, whether it be working stinky feedlots, to tending to several hundred brood cows alone with his horse and dog, to just normal everyday ranching.
Growing up, one of his favorite things to do was hunt. He could tell you stories and stories about hunting with his Dad, Herb Walker, and Paul Campbell. He used these experiences to teach his kids, and those around them, how to be responsible hunters and one with nature. He later became a big game hunting guide for outfitters around the area.
Lester is definitely an example of a lifelong learner. He was a smokejumper out of McCall before he graduated from Lewis Clark State College with his teaching degree in the mid to late 60's. He taught school under contract for a few years, but soon became a logger in order to make enough money to sustain a family and fulfill the desire to be outside. All of his life he treated the world as a classroom, sometimes he was the learner, many times he was the teacher to anyone who was willing to learn. He was well-read and knew how to apply his readings to the world around him. Life before "Google" and "YouTube" required reading, studying, long-term memory and the ability to apply knowledge. Lester completed this task continuously while teaching his kids and those around him to do the same. Life was always a quiz for him; sometimes he gave it, sometimes he took it.
Lester married Vicky Daffin many moons ago and they have four kids. Their four kids, and all of the nieces and nephews around them, were always the main focus of their lives. Les was involved in all aspects of his kids' lives and their kids to come. Whether it be his kid, grandkid, niece, nephew, or friend of any of them, Lester treated them as his own and he would help them any way he was capable of helping. He taught the younger generations how to be productive, strong leaders, and honest people who always kept faith in themselves and God.
Again, 73 years of experiences, life lessons, and influences gained and given by a man such as Lester Lowe is impossible to inclusively cover in this short synopsis. His kids and grandkids- his pride and joys, survive him: Luke and Debbie (Willson and Chantell); Layton and Mindy; Lorinda and Dwight Hughes; and Jed (Logan, Rylie and Macy). His nieces and nephews are of equal importance to him, but as all of you know, there are so many of you that it would take a newspaper column itself to list your names.
Lester was preceded in death by his parents, Jeurald and Tressie, and sister, Lorraine, and brother-in-law Herb Walker, along with many others that he would certainly be excited to join again.
Viewing will be held Friday, Feb. 10, 2017, from 2 to 4 p.m., PST, at the Blackmer Funeral Home in Grangeville. A funeral service will be held Saturday, Feb. 11, 2017, at the IOOF Hall in Riggins at 2 p.m., MST. Dedication of the grave will be at the Riggins cemetery with a potluck dinner following back at the IOOF Hall. Blackmer Funeral Home (nephew Justin) is handling funeral arrangements. Send condolences to the family to blackmerfuneralhome.com.
In lieu of, memorials may be made to the Riggins Ambulance and EMS Team.