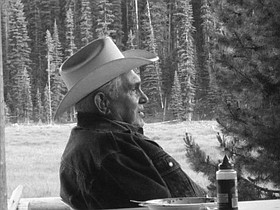 C. Bruce Bentz
May 11, 1931 - February 6, 2017
C. Bruce Bentz, 85, died Feb. 6, 2017, in Lewiston, Idaho, of causes related to Parkinson's Disease. He was born May 11, 1931, to Chas and Erna Foskett Bentz at their home on White Bird Creek, White Bird, Idaho. He was raised on the Bentz Ranch just north of White Bird with five sisters and one brother.
After high school graduation Bruce left the ranch to pursue his life course. After working the next two years for the Forest Service he wanted more, so at age 21 he joined the U.S. Navy and spent the next four years traveling the world. He was very proud that his ship, the Baltimore, represented the United States at the Queen of England's Coronation on June 2, 1953. After the Navy, he returned to White Bird and began his life of many careers. He was engaged in logging, construction, road building, and was one of the top powder monkeys for Boise Cascade.
In 1957 he married Loris Graham in Grangeville, Idaho. She traveled around with him on his many jobs until returning to White Bird in 1963. Together, with his brother Jerry, they ran the Bentz Ranch for the next 12 years. Bruce and Loris raised three children: Tammy, Sheryl and Fred, also taking in Loris's two younger sisters, Debra and Colleen. Their house was always full.
In 1975, the ranch was sold and he built a new home for his family south of White Bird. From there a new chapter of his life and careers began. In 1981 he stepped out and made a job move to Alaska. Working in several different places, his jobs were mainly in airport maintenance. His last job was road maintenance on the Dalton Highway. In 1986 he retired from the State of Alaska and moved back to White Bird. Once home he did several small jobs and ended his working career working for the Deer Creek Road District.
A legacy he leaves his family is the cabin he built at Twin Cabins. This cabin was a design of his mind. It's a family endeavor that continues on as of today. He cut the logs and the family peeled them (mostly Fred). He notched them to fit perfectly and put them up. He created and made the shakes for the roof by hand. It was truly a labor of love for his family. Last summer, he was able to build a very large shutter for the front window of the cabin and set some logs for the added porch in the back. These were his last updates to his beloved cabin that he was able to do.
He was a master gardener and grew amazing tomatoes. Some of his other hobbies included bowling, fly-tying, woodworking, fishing, and shooting. He and Ray Brown would sit for hours on the front porch, shoot-reload, shoot-reload, and most of all telling numerous stories! Not only was he a good dancer and excellent whistler, he was also quite the flirt with the ladies. He was much loved by his family and will be greatly missed.
Bruce was preceded in death by his parents; his wife, Loris; and his sister, Kay O'Neal.
Survivors include daughters: Tammy (Mike) Murt and Sheryl Bentz; son, Fred (Melissa) Bentz; sisters-in-law: Debra Graham and Colleen Paul; his sisters: Virginia Adkinson, Pat Mackie, Charlene Bentz and Jeannie Malivich; brother, Jerry Bentz; six grandchildren; 13 great grandchildren; and numerous nieces and nephews.
We were able to keep Bruce home this last year with the help of his daughters, Sheryl and Tammy; sister-in-law, Colleen; caregiver, Maggie Abbott; and grandson Jeb and his wife Lennie and their children. Jeb and Lennie and their children made their home with Dad just to allow him to stay home as long as possible.
A celebration of life will be held Saturday, Feb. 18, 2017, at 11 a.m. in the IOOF Hall at White Bird. This will be followed by a dinner in the Rebekah Hall. Please come and join us and bring your stories about Bruce to share with us. Donations may be made to the Rebekah Hall in White Bird in memory of Bruce. Arrangements are under the direction of the Blackmer Funeral Home of Grangeville. Send condolences to the family to Blackmerfuneralhome.com.