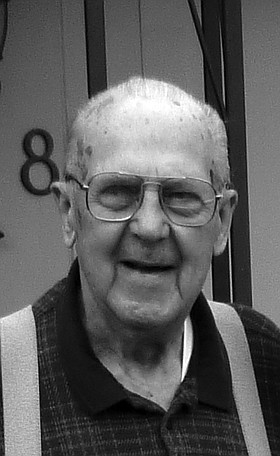 Lou Bunting
unknown - February 3, 2017
Lou Bunting, of Grangeville, Idaho, died Feb. 3, 2017 at the age of 98 ½. Halves count at 98. He had been living for a brief two months at the Idaho State Veterans Home in Lewiston. He was born in Albion, Ill., in July of 1918 to Louis and Elsie (Eimers) Bunting.
He was clearly headed for a life of adventure, when at the age of 18 months he accompanied his father and mother on a 30-day car trip in a 1914 Rio Flying Cloud Touring Car as they moved the family from Albion to Grangeville. His mother's daily journal of the trip enumerates many flat tires, bent fenders, mechanical breakdowns, snowstorms, and cold nights, as they went car camping across the continent.
As a young teenager, Lou had his own horses and often worked for farmers and cattlemen herding stock to and from the auction yard in Cottonwood, Idaho, and delivering supplies from the local Alexander-Freidenrich department store to some of the few still active miners in Florence and the Buffalo Hump area.
During the summer of 1933, at the age of 15, he and his cousin, Jack Soltman, somehow obtained their parents' permission to hitchhike to the Chicago World's Fair. Shortly after getting their first ride out of Grangeville, they learned that few drivers were willing to pick up two young men together in the middle of the Great Depression, so they split up and each made their way to Chicago alone. This took several weeks. Their aghast and astonished parents bought them train tickets to come home.
Lou graduated from Grangeville High school in 1936. He was a good student and athlete and briefly held the state high school record for the 440- yard dash. He said his real record was for "holding the record for the shortest time ever." He enrolled at the University of Idaho but had to leave after a semester to take over the family's Continental Oil delivery franchise when his father died suddenly of a heart attack.
He enlisted in the Army immediately after Pearl Harbor and qualified for officer training and pilot training, ending up as a bomber pilot in the Army Air Corps. His war assignment was to run the bomber navigator school in Houston, Texas, for the full duration of his enlistment. At the conclusion of the war in Europe, he led a group of bomber pilots charged with ferrying unneeded bombers from bases all over the U.S. to desert storage facilities in Arizona and Texas. Having never flown some of these many different types of bombers before, it was commonplace for his crew to sit in the cockpit, read the manual for a bit, and then fly the plane away.
After the war in 1942, Lou met and married Faith Cathcart. They had a daughter, Fay and a son, Bob. The marriage ended in 1947 and Lou took custody of Fay and Bob and moved them to Grangeville. The highlight of Lou's life, and his greatest joy, was meeting and being married to Mauna Dawn Fahnlander. They met on New Year's Eve at the Imperial Hotel in Grangeville and married a very short four months later in the spring of 1951. Mauna took on Lou and his two children and was a devoted and loving wife and mother to her new family. About a year later they added daughter, Ann, and a year later, Cindy, and their family was complete.
Lou worked as the financial and sales manager for Jordan Motors, a Ford dealership in Grangeville. He later became partners in the business with Wes Jenkins. His office was located in the front of the building overlooking Main Street and he always enjoyed the many daily drop- in visits with customers from Grangeville and surrounding communities. He never forgot anyone he met. He retired after 41 years in the business.
Lou enjoyed bird hunting, fishing the streams and rivers of central Idaho and golfing, but he spent most of his time with his family and community. He was involved with the Grangeville community throughout his life, serving at various times, as a volunteer fireman, member of the JCs, Lions Club, Elks Club, District School Board, City Planning Commission, and many years as secretary of the Grangeville Border Days Rodeo.
Very shortly after retirement, Lou lost his sight due to complications of glaucoma. Maybe because of his loss of sight, he relied even more on his incredible memory. Even up until his death, he could tell stories of Idaho County and the people he met over the years as well as the best historians.
Lou had two great friends, Clayton Hampel and Bruce Wayenberg. They would pick him up every day for coffee and on Wednesdays, you would find them roaming the Camas Prairie and beyond (often much to Bruce's wife's dismay), having lunch and revisiting their favorite haunts. It kept Lou young.
He was predeceased by his beloved wife, Mauna; sister, Dorothy Jones; brother, Bob; and daughter, Fay Caley. He is survived by his son, Bob (and Maria), Bainbridge Island, Wash.; daughters, Ann (and Gary) Palmer, Lewiston, Idaho, and Cindy (and Peter) Mottner, Everett, Wash.; seven grandchildren and 16 great-grandchildren.
Lou was able to live in his own home in Grangeville until well after his 98th birthday thanks to the devoted support of his daughter and son-in-law, Ann and Gary Palmer of Lewiston, who cared for the house and coordinated the schedules of several daily caregivers and home support workers over many years. The family wishes to express special gratitude to Alice Ferguson for her tireless service, friendship, and loving care for Lou over the past eight years. She became like a daughter to him. We would also like to thank Bonnie Hohman and all of the other caregivers whose commitment made it possible for Lou to live for 63 years in the home he built for his family.
A memorial service will be held at Blackmer Funeral Home in Grangeville when weather conditions improve allowing family members to travel safely. In lieu of flowers the family requests that memorials be directed to: Mountain View School District, Bill Eimers Memorial Scholarship, 714 Jefferson, Grangeville, Idaho 83530.