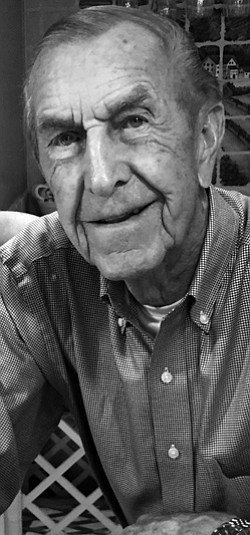 Warren Wieder
unknown - December 8, 2016
Warren Wieder, 85, died on Thursday, Dec. 8, 2016, at his home in Sunnyvale, Calif. He was born and raised in Grangeville, Idaho, to Fred and Eva Wieder. He was the youngest of four children: older brother, Jack; and sisters, Lucile and Marie.
Warren enlisted in the U.S. Air Force in 1953 and was stationed in Osaka, Japan. After his military service was complete, he came to the San Francisco Bay Area in California. It was there that he met and married the love of his life, Marilynn. In 1958, their twin daughters Tracy and Linda were born. In 1963, they moved into their new home in Sunnyvale, surrounded by apricot and cherry orchards.
Warren began working for Shell Oil Company and later for Ashland Chemicals as a professional trucker, receiving an award for driving 1 million miles with a perfect safety record. Warren could back a tanker trailer into the toughest Shell stations in San Francisco with ease.
Every year, Warren took his family on summer vacation to Grangeville to stay with his brother, Jack, and visit his mom, Eva; sister Lucille, and many more family and friends. He was so happy and proud to share his hometown with his daughters by fishing on the Lochsa, going to the rodeo, watching the Fourth of July Parade, and swimming in the town pool.
Warren had several hobbies he enjoyed. He loved cars, especially the classic Ford Mustang. He was a founding member of the Vintage Mustang Owner's Association of Santa Clara, Calif. Warren rebuilt and restored numerous classic 1965 Mustangs and was often a first-place winner at annual car show competitions. Warren loved attending car shows with Marilynn by his side and gave her the keys when it came to driving their Mustang onto the winner's ramp to receive their awards.
Warren was also a renowned antique gun collector and Browning appraiser. He was a life member of the Sunnyvale Rod and Gun club and enjoyed competing in trapshooting events and won a number of medals and trophies. In later years, Warren enjoyed trapshooting with his Tuesday morning buddies, who were an important community of friends to him, especially after his dear wife and best friend, Marilynn, died in 1986.
Warren is survived by his daughter, Linda, and Tracy (Bunger); son-in-law Dave Bunger, and his beloved granddaughter, Sarah Bunger.
A private family memorial service will be held in Grangeville in the spring of 2017 at the Prairie View Cemetery. Inquiries can be sent to dtbunger@sbcglobal.net.