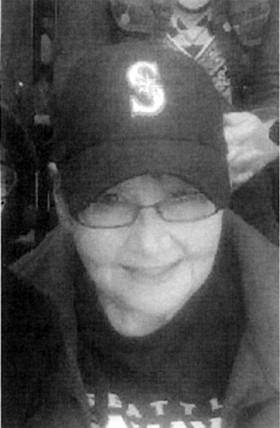 Joy Ann Roeper
August 5, 1942 - January 1, 2017
Joy Ann (Irwin) Roeper, 74, of Lewiston, died peacefully surrounded by family on Jan. 1, 2017, due to complications from congestive heart failure.
Joy was born to Buell and Helen (Clabby) Irwin on Aug. 5, 1942, in Weiser, Idaho. During her youth, she moved to Cottonwood, Idaho. She attended Cottonwood Public School, and graduated in 1960 from Cottonwood High School.
On May 3, 1969, she married Archie Roeper. Joy and Archie owned and operated a restaurant. Later they worked together to run the Cottonwood Bowl, and she was an avid bowler. Later she decided to attend college and further her education. She graduated from the University of Idaho with a Bachelor's degree in history and psychology. Joy loved the Seahawks and she was proud to be a part of the "12th Man Club," and during baseball season she was cheering on the Mariners.
Joy is survived by her children, Wally (Kelly) Williams, AJ (Jackye) Roeper, and Rhonda Roeper; her grandchildren, Dana (Scott) Crow, Cody (Jessica) Young, Wyatt (MaKayla) Williams, Robert Roeper, Nikole Roeper, Joshua Roeper, and Drew Doyle; eight great-grandchildren, and the ninth due in July. Also surviving her are her siblings, Dorothy Walker, Agnes Forsmann, Rita Weatherby, Larry (Vicky) Dasenbrock, as well as numerous nieces and nephews.
She was preceded in death by parents; husband, Archie; son Buell "Chip" Williams, and her brothers, Buell Irwin, John Irwin and Richard Dasenbrock.
Cremation has taken place and a memorial service will be held at a later date. Arrangements are being handled by Uhlorn Funeral Home in Cottonwood.
May the road rise up to meet you.
May the wind be always at your back.
May the sun shine warm upon your face;
the rains fall soft upon your fields
and until we meet again,
may God hold you in the palm of His hand.