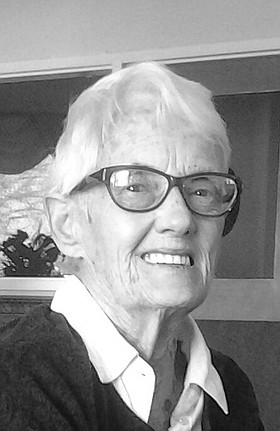 Jane E. Tilton
Riggins, Idaho
November 26, 1931 - May 22, 2017
Jane E. Tilton, 85, of Riggins Idaho, died of natural causes at the Grangeville Health and Rehab Center on Monday, May 22, 2017. She was born to Ad and Marie Bennett on Nov. 26, 1931, in Janesville Wis. Jane was an only child and was raised in her hometown of Brooklyn, Wis.
Graduating from Janesville Craig High School in 1949, she wrote of her dreams of the future while her favorite record, Clair de Lune, played. She was very happy and looking forward to planning her new life and home with great expectation.  She became engaged to Eugene D. Tilton of Hurley, Wis., and they were married in October of 1950.  They then began their new life together in Colorado Springs, Colo., where Gene was stationed in the Army. They had three children; Linda (Bill) Brassfield of Boise, Idaho, Mike (Laurie) Tilton of Riggins Idaho, and Cheryl (Mark) Leis of Detroit, Ore. Life was always an adventure for Jane and Gene as they traveled to Southern California where they resided for 15 years before returning to Wisconsin. Longing once again for the mountains, they eventually returned to the west, making Idaho their final home. They lived in Boise, Donnelly, and Cascade, Idaho, until Gene's passing in 2004. Jane cultivated a very creative and active imagination and had a great zest for life.
 A self-taught artist, Jane spent many years working crafts and oil painting, eventually helping others by holding classes at the local community center. She believed in everyone's unique creativity and their ability be anything they wanted, even an artist. 
Over the years, Jane's greatest joy became her grandchildren, and great grandchildren. She took great pride in each and every one of them; Melanie Kessler, Neal Tilton, Christopher Brassfield, Nina Leis, Maelyn Leis, Jaren Leis, Evan Tilton, and Dane Kessler.
Jane was a very talented, strong, and courageous individual. She will be dearly missed by all of us whose lives she has touched. Mom taught us Grace always survives.
Cremation has taken place. A private family inurnment will be held at a later date. Arrangements are under the direction of Blackmer Funeral Home of Grangeville. Send condolences to the family to Blackmerfuneralhome.com.