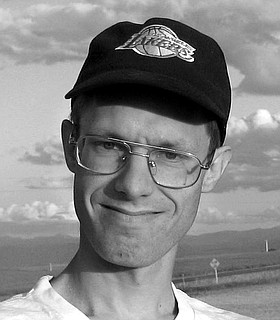 Keith Fred Wassmuth
Greencreek, Idaho
October 17, 1972 - May 28, 2017
Keith Fred Wassmuth, 44, died Sunday, May 28, 2017, at Lewiston, Idaho. He succumbed to injuries sustained in an auto accident and went to God peacefully, surrounded by family.
Keith was born Oct. 17, 1972, at Spokane, Wash. On Dec. 3, 1972, he was adopted by Virgil and Donna Wassmuth of Greencreek, Idaho. They drove through winter weather at 30 degrees below zero to bring him home.
Keith was raised on the family farm at Greencreek, where he learned his strong work ethic and to love animals, especially cats and snakes. Many people had a special place in their heart for Keith, including many friends from his Prairie High School class of 1992. Keith loved to bowl and had many friends in his leagues. He also enjoyed playing cards and board games and watching NASCAR, the NBA and WWF. He loved camping and creek fishing with his family and his friend, Bob.
Keith worked with more passion and vigor than anyone else could match. This included mowing lawns, doing yard work, painting houses and washing dishes. He was quick to lend a hand with whatever needed done.
One of his proudest days was when he became godfather to his niece, Erin Wassmuth. He always considered himself a "father" to her since he never had children of his own. He leaves his legacy as an organ donor giving life to others.
Keith did many things with his special friend, Lois Sander. These included attending family functions, shopping, Sunday Mass and fun activities during the week. Keith enjoyed eating the meals Lois sent home with him.
Keith is survived by his parents; siblings, Gail Dillard (Steve Waller), Kim Behler, Neil (Susan) Wassmuth, Eric (Alea) Wassmuth and Amy Rose; 17 nieces and nephews; his best friend of seven years, Lois Sander; and his godmother, Connie Mager. He was preceded in death by his siblings, Karen and Mark; his godfather, Fred Nuxoll; and his grandparents, Arnold and Leona Wassmuth and Alfred and Leona Duman.
He was a devout Catholic and member of All Saints Catholic Church in Lewiston. In lieu of flowers, memorials may be sent to All Saints Catholic School in Lewiston or Summit Academy Catholic School in Cottonwood, Idaho.
His celebration of life was a funeral Mass at 10:30 a.m. Friday, June 2nd at All Saints Catholic Church in Lewiston, followed by a luncheon in the social hall. Public burial was at 5 p.m., Friday, June 2nd, 2017, at Greencreek Cemetery. A tribute to Keith by his family was the release of an entire rosary of balloons. A final farewell was given when three lawn mowers drove off. The family invited all to pray the rosary or a prayer of choice for Keith in your own home Thursday evening.
You mowed a wide swath, Keith, and you will be missed.
Uhlorn Funeral Home in Cottonwood was in charge of the arrangements.