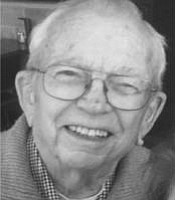 Willard Dee De Armond
Nampa, Idaho
May 23, 1929 - May 8, 2017
Willard Dee De Armond, age 87, died peacefully in his sleep at his home in Napa, Calif., with family present, on May 8, 2017.
Willard was born on May 23, 1929, in Grangeville, Idaho; son of the late Will H. De Armond and Marie C. (Callan) De Armond.
After high school graduation, Willard continued to work his family's farm. On Nov. 11, 1951, Willard married Norma W. Jungert of Cottonwood, Idaho. A couple of years into their marriage, Willard and Norma purchased their own 120-acre ranch in Grangeville, raising cattle, sheep, and chickens, while also growing hay and grain crops. In addition to farming, Willard worked at the local saw mill to augment their income.
Four of their five children were born in Grangeville. In June 1963, Willard and Norma relocated to Napa, Calif. Their fifth child was born three months later. Willard worked in Napa as a finish carpenter, retiring in 1988. He continued his union membership, being recognized in 2013 for 50 years of membership in the Carpenter's Union. Willard and Norma also became landlords with residential real estate properties in Napa and Sacramento, Calif.
Upon retiring, Willard and Norma enjoyed RV traveling throughout the United States and Canada. Willard joined the Napa branch of the Sons in Retirement (SIRs) and became an avid golfer, enjoyed metal detecting, and woodworking.
Willard was preceded in death by his son, Nicholas W. De Armond. He is survived by his wife of 65 years, Norma (Jungert) De Armond; daughters, Sylvia Ries & husband Jeffery, of Placerville, Calif.; Joyce Baude, Nancy De Armond, and Linda Battles, all of Roseville, Calif.; three grandchildren, Steven Ries & wife Julieann, Terilyn Baude, and Brandon Battles; five great-grandchildren, Anjela Ries, Crystal Ries, Daniel Ries, Taeloni Lee, and Kawika Hackett.
Memorial and internment services were held on May 26, 2017, at Napa Valley Memorial Park, in Napa, Calif. In attendance were Kathy and Sarah Seubert of Grangeville, along with friends and family members from California, with Fr. J. Michael Sparough, SJ, officiating.