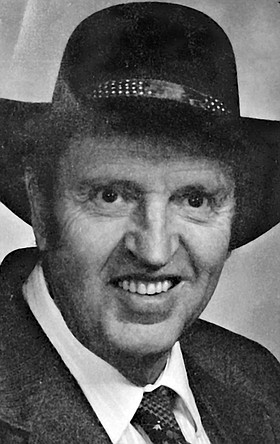 Floyd Gene Lytle
Grangeville, Idaho
unknown - June 14, 2017
Floyd Gene Lytle of Grangeville died June 14, 2017. He was 89, and was greatly loved by all. Floyd was a Korean War veteran who received the Bronze Star, and at his burial in Clearwater, Idaho, received a five-gun salute and flag memorial presentation by the Army Honor Guard, Veterans of Foreign Wars, and the American Legion, whom the family wishes to thank.
Cowboy Floyd had been a cattleman in his earlier days, owning property at Battle Ridge, Idaho, and was part of "Lytle Brothers Cattle Co-Op." Lytle Cow Camp is listed on the Forest Service map and historical site list. Before retirement, Floyd had been employed in mill working, and as a security officer.
Floyd loved Jesus and was active in church, having served as Sunday School superintendent, deacon, in church remodeling projects, and in encouraging others, and had been a Salvation Army bell ringer for around 10 years. Floyd enjoyed driving his electric wheel chair down Main Street, where he shared God's love with others, so that they may accept Jesus and go to heaven. He was a missionary of sorts.
Floyd is preceded in death by his father and mother, Earnest and Grace Lytle; his twin brother, Lloyd Lytle; his other brothers, Clinton and Elvin Lytle; his other twin brother and sister, also named Earnest and Grace; and his son- in-law, Don Akins.
Floyd is survived by his wife of almost 54 years, Carloyn Lytle; his daughters, Leta Lytle Akins, and Pastor Judy Lytle Snow and her husband, Pastor Kevin Snow; his grandchildren, Charles Akins and Charles' wife, Bekka Akins, Desiree Akins, and Victoria and Chandler Snow; and his great grandchildren, Lily and Riley Akins; Floyd's brother, Arden Lytle and Arden's wife, Carol Lytle, and Floyd's sisters, Joyce Frazier, and Doris Jones.
The family wishes to thank Trenary Funeral Home for services, and Abundant Life Church Pastor George and Mardell Casteel, and Pastor Melissa Gates for officiating the services, providing the funeral dinner, and for their loving support. The family also wishes to thank St. Mary's Hospital and Devin's Home Health Care for their good care of Floyd, and for everyone who sent flowers or cards. Floyd left a legacy of love and kindness that will live on in our hearts.