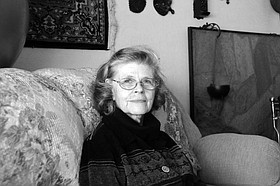 Estella "Arlene" Palmer
June 5, 1935 - March 6, 2017
Estella "Arlene" Palmer, 81, of Grangeville, Idaho died Monday, March 6, 2017, at Syringa Hospital in Grangeville, of health complications related to Alzheimer's disease. She was born at Sandpoint, Idaho, June 5, 1935, as the only child to Albert and Faye V. (Bell) Faurot.
She attended elementary and high school in Sandpoint and grew up an only child living with her mother and maternal grandmother, Grandma Bell. While in high school, she played the clarinet and traveled with the school band.
She graduated from Sandpoint High School in 1953 and then went to work at an auto shop in Spokane, Wash., in the office.
In 1956, she met her future husband in Kellogg, Idaho, at a mutual friend's wedding. She married David L. Palmer, Sr., June 28, 1958, at the Church of the Nazarene in Spokane, Wash.
They made their home in Tacoma near McChord Air Force Base. Here, their first child, a son, David Lee Palmer, Jr., was born, April 11, 1959.
During her husband's 20 years in the service, the family was stationed in Puntzi Mountain, British Columbia, west central Canada; Cottonwood Air Force Station (Idaho; where North Idaho Correctional Institution is now located); Blaine, Wash.; Richards Gabhour AFB in Missouri; and then back to Blaine.
A second son, Steven W. Palmer, was born at Grangeville Nov. 26, 1961, while they were stationed in Cottonwood.
Her husband volunteered to serve in Vietnam in 1968 where he was stationed at Monkey Mountain near Danang for one year. Upon his return home, he met for the first time his 8-1/2-month-old daughter, Lorie Fae, who was born June 8, 1968.
The family settled in Custer, Wash., three miles from the Canadian border. There, she had an in-home daycare for more than 15 years. During her time in Custer she volunteered for the March of Dimes, collecting door-to-door on her road. In 1992, they moved to Grangeville where they resided until her death.
In Grangeville, she volunteered for the clothing bank and was a participator in the Fenn Domestic Club through her good friend, Audrey Crea. She also worked with the "Pies for Precious People" program for the local nursing homes. She was a member of the Lynden Church of the Nazarene in Lynden, Wash., until she transferred membership to the Grangeville Church of the Nazarene.
She and her husband were married for nearly 48 years. He died April 17, 2006.
She was an avid reader and enjoyed picking huckleberries, canning and making pickles. She spent many hours taking care of her grandchildren. She also enjoyed taking regional trips with her family including to dig garnets in St Joes, ride the train in Cascade, to the Oregon Coast, Spokane, Sandpoint and Boise.
She was a true example of Christian faith throughout her life, reading her Bible daily, even as her memory began to slip. When Alzheimer's took its toll, she still offered the 23rd Psalm as a comfort and would always say, "go with God and He will go with you."
She is survived by children, Dave, Jr., and his wife Tina of Blaine, Wash.; Steve of Grangeville and Kooskia; and Lorie Palmer and husband Valor Russell of Grangeville; four grandchildren, Justin Palmer of Lynden; Brianna Palmer (Robert) of Kooskia; Avery Russell of Boise; and Hailey Russell of Grangeville. She is also survived by one great-grandson, Robert "Robby" Thomas Maynard of Kooskia. She was preceded in death by her husband, her mother and her father.
The family offers a heartfelt thanks to the Syringa medical team who so lovingly and patiently cared for their mother and grandmother during her final two weeks of life.
A private family service is planned. Condolences may be sent to the family to www.blackmerfuneralhome.com. She was an avid animal supporter. In lieu of flowers, donations can be made to ARF (Animal Rescue Foundation) toward the building of a local shelter. Go onto to ARF's fund at http://bit.ly/donatetoarf, or mail to P.O. Box 393, Grangeville, ID 83530.